Pirate Adventure Cruises
Ahoy Mateys! If you are looking for an adventure on the high seas for your young buccaneers, we have just the activity that will put them right in the middle of the action. Available at Walt Disney World, the Pirate Adventure Cruises are a swashbuckling good time that will bring out the sea dog in the best of them!
The Pirate Adventure Cruises sets sail daily and takes kids ages 4-12 on a pirate adventure in search of a hidden treasure. While sailing exotic ports of call (aka resort marinas), they will learn of pirate legends and discover clues that will help lead them to the treasure.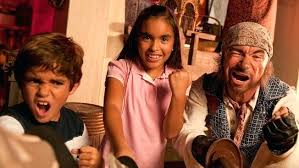 There are two adventures to choose from. The first is the Albatross Treasure Cruise that sets sail from Bayside Marina at Disney's Yacht Club Resort and Disney's Beach Club Resort. This adventure takes your 'scallywags' across Crescent Lake and Epcot's World Showcase Lagoon while they hear about "The Legend of Albatross."

The second is the Islands of the Caribbean Pirate Cruise that departs from Caribbean Cay, a tropical island located in the middle of Barefoot Bay at Disney's Caribbean Beach Resort. In this adventure,  your 'buccaneers' will sail the waters of the Caribbean and learn the story of Old Port Royale.
At the end of the cruise, kids will split up the treasure and enjoy a 'me hearties' snack and drink. The cost of the Pirate Cruise Adventure is $39-49 and reservations are recommended. The adventures take place daily from 9:30 – 11:30 weather permitting. Children attending must be potty-trained.
Want to go full pirate on your next trip? Make sure you check out the pirate-themed rooms at Disney's Caribbean Beach Resort!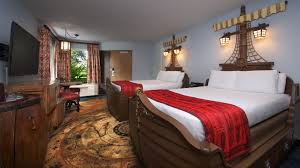 Have your kids done the Pirate Adventure Cruise? Tell us what you thought in the comments!
NOTE: This is a different adventure than the Pirates & Pals Fireworks Voyage
Author:
Susanne
Susanne Kain was not born a Disney fan, but after marrying into a family that loves all things Disney, it didn't take long for them to transform her into a Disney lover too! Since then, she has been to Disney over 10 times and falls in love even more with each visit. A self-proclaimed foodie, she is always looking for the next best dish that Disney has to offer! When Susanne isn't dreaming of Disney, planning her next trip, or visiting a park, she enjoys spending time with her husband and son who also share her love of Disney.