Could there be 101 Life Lessons in One Hundred and One Dalmatians?
Hello Thursday and Hello Main Streeters. This Thursday blog was so hard to write, I had been struggling all week to find a life lesson and stay with the theme of this series, pulling inspiration and motivation from quotes and themes in Walt's animated movies. I sure hope you have been following along, and sharing with us what you have taken from Disney movies as I explore them each week, sometimes every other week; because life, but I digress.
This week's blog brings us to the next movie in chronological order; the first movie released in the 60s; times were changing, but One Hundred and One Dalmatians brought some wholesome entertainment to the theaters after a particularly rough time in society. It was a box office success and pulled Walt's Buena Vista Distribution and the studio out of a financial rut.

As I watched this classic again, I couldn't really figure out what quotes, or life lessons to pull from the story. Then this morning, as I found out that the beloved Grand Floridian Greeter, Richard Gerth passed, it hit me.
There aren't 101 life lessons to be taken from this movie, but there is one very strong lesson worth 101 of the best life lessons to be gleaned from the overall theme; Family doesn't necessarily have to be blood. Stay with me on this one friends, I promise this lesson is part of the movie, but to understand the lesson, we must explore the context.
As the plot unfolds in One Hundred and One Dalmatians, we come to find Pongo and Perdita searching for their 15 puppies who have been taken by Cruella and her henchmen to make spotted coats. But 15 dogs is not nearly enough for Cruella and she needs more, so she has taken dozens, in total including Pongo and Perdita's pups, there are 99. Once all the chaos [no story spoilers here] is over, Pongo and Perdita have all these puppies with them, and where are they to go? When they return to Roger and Anita, their owners, they return with all the pups. In short, the house is full of puppies. Roger having just found some success writing a song based on Cruella, decides to move the family out to the country where all the pups can be raised with sufficient space.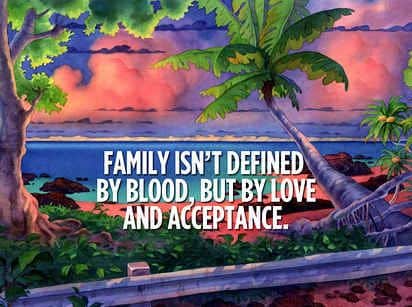 That storyline is the core of the lesson, Roger and Anita didn't have to adopt all the dogs, nor did they have to move, but because all those pups would have ended up somewhere else; they opened their hearts and treated all of them as family. Only 15 pups were Pongo's and Perdita's, but in the end, blood didn't matter, what mattered was a sense of family and love. What a most wonderful lesson to take from a movie. So how do we apply that to our lives? History typically repeats, so let's start there.
Historically, in the 60's the world was changing, and we were still in the thick of conflict, but also great success and pushing the frontiers of science and space exploration. But this sense of family, although not totally in your face, it's just a subtle lesson, transcends from a Disney movie released in the 60s to today's day and age. We are still making scientific advances, and pushing the envelope of entertainment, not so much space exploration, unless you count Galaxy's Edge.
If we look at the Disney community so many of us have found through a mutual love of Disney, friends that have become like family. We have celebrated birthdays, and gone to one another's Disney weddings. We have been important parts of pregnancy announcements, and support through tough times as well as good times. We have cheering squads for RunDisney events, and we forge familiarities with Cast Members, who we come back to visit time and time again because they feel like family. To tie it all together, for me, Richard Gerth was one of those people, he felt like family each time I got to see him.
I know many in the Disney community who have forged true and real friendships with Cast Members, they go above and beyond for guests, but sometimes they just become family, and we become memorable to one another on trips. Aside from visiting Richard, I myself made a CM friend who has become family and an important part of my core group of best friends. She was immediately loved and embraced by the rest of the Lady Social Crew, as we like to call ourselves. We spend countless hours messaging one another about Disneybounding as our favorite Princesses, and planning multiple get togethers every chance we get. They too treat her like family. Shout out to Emily Gruber! This is just my personal family isn't blood testimonial.
So the life lesson that family doesn't need to be blood, remains true and continues to this day. It can be seen throughout the power of friendships forged on property, in Disney groups, and through memories with people who touch our hearts. Today the Disney community mourns a man who felt like family to so many, but we should be celebrating Richard as well. His memory and his legacy serves to remind us that where there is Disney, there is family, our own little slice of Ohana.
So Main Streeters, tell us about your Ohana's, what CM's do you want to shout out to because they have become family to you? I am sure today, they need all the love they can get, and it is my sincerest hope that all who remember Richard Gerth, remember him fondly like family, I know I will.
Author:
Erika
Erika Roberts has been a Disney kid for as long as she can remember, but her love of visiting Disney Parks started after just one ride in a Doom Buggy. She couldn't run to guest relations fast enough to offer up her soul in return for an Annual Pass. Since then Disney has taken all of her money, but has given her the most cherished memories; from watching her Nona's face light up with happy tears as we strolled down Main Street on her first visit (she was 84 at the time), to her very own engagement on Halloween in front of the Haunted Mansion.
Erika is excited to be on the TMSM team and where Disney Parks are concerned, you won't catch her dead on It's a Small World. If she asks to ride that, this is a clear indication that she is in danger and you must send help. You will, however, catch her performing Random Acts of Disney (R.A.D's), park hopping with her amazing group of impressively talented and kind friends (usually in some themed attire), hanging out by The Haunted Mansion, and ugly crying during fireworks… then begging for a Mickey Premium Bar to eat her feelings…this is a judgment-free bio.
Otherwise, Erika works for the State of Florida and is actively involved in her community. Erika believes in empowering others and spreading kindness to people from all walks of life. Erika also makes custom designed Disney inspired ears, etched glass, gifts, and accessories. You can check out, like or follow her work on FB, which also links to my shop's Instagram: www.facebook.com/imagineering.emporium. She looks forward to getting to know everyone and sharing the magic of Disney!