By TMSM Racing Disney Guest Blogger Catie Neal
Hello everyone!
So I left you last week with the finish of the 5K. After our fun day we explored Disney and took it pretty easy. We spent the majority of our day in Animal Kingdom and ended with a hysterical meal at Whispering Canyon Café – I personally give this place 2 thumbs up! We cracked up the entire meal and had a really good time! After dinner we headed back to our room and laid out our flat runner outfits for the next day.
Now, just because this is labeled as the "Princess" weekend, doesn't necessarily mean that you must limit yourself to just the princesses you think of. In fact, we used an original "princess" of Disney, Daisy, as our muse for our 10K outfits. Since we knew we were running as a trio, I googled lots of "Disney female trios" and came across Daisy's nieces, April, May, and June. Since back in January my mom, brother, and I had run as Hewey, Dewey, and Louis, we found this to be too adorable to pass up! Unfortunately, my sister found out she could sneak down to Disney for the race weekend too late, so we weren't able to snag any bibs for her to run; however, I personally think she should have won a medal for being the best dressed spectator as she rocked out a Daisy outfit to cheer her "nieces" in during the 10K!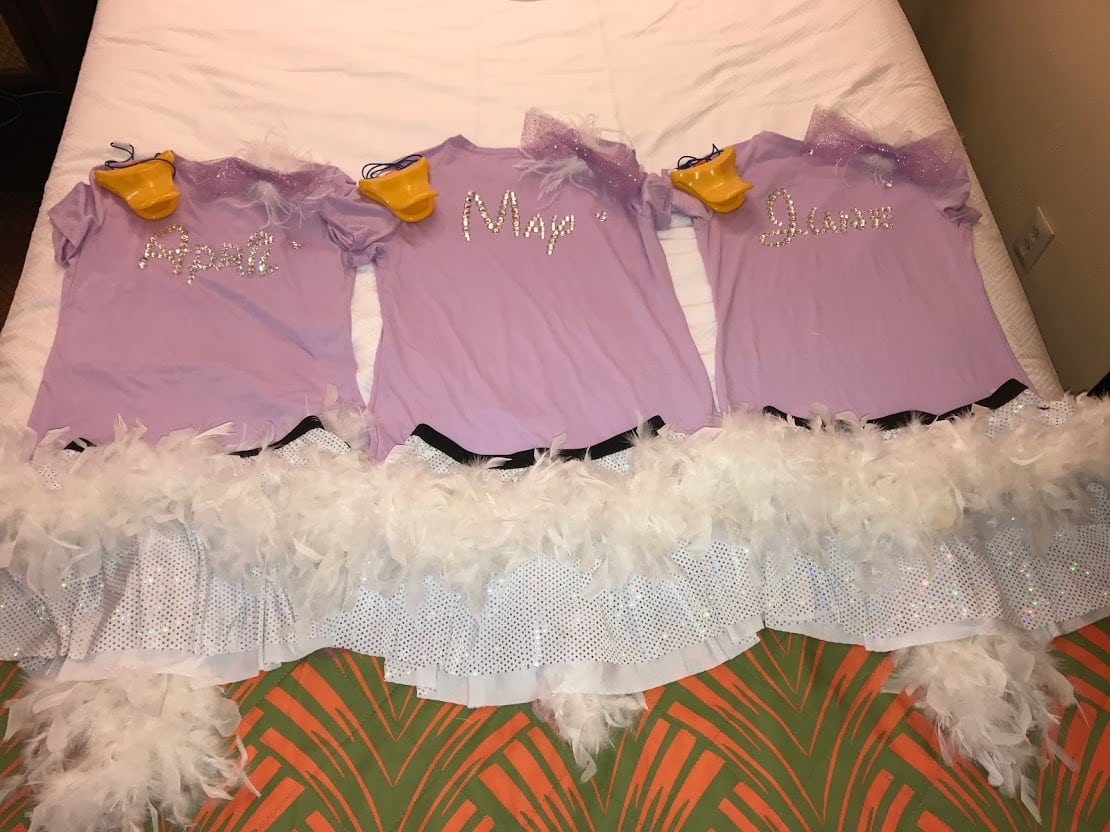 Saturday was the Enchanted 10K, and let me tell you when that alarm rang at 3:00 AM to wake us up we were NOT happy! In fact, some people may have even snuck in a few extra winks while others were getting ready! We all finally piled into the car and made our way to the start line area. We were running a little, OK, more like a lot behind our time frame we were hoping to be on. So much so, that Catherine and I had to literally sprint away from my mom and sister (after a quick pre-race photo of course) in order to make it into our corral! Even though we made it in, we really couldn't push too far up in the corral since they utilized the new "mini wave" system for this race too! So we felt pretty congested and a little nervous for how well we were going to be able to run this race.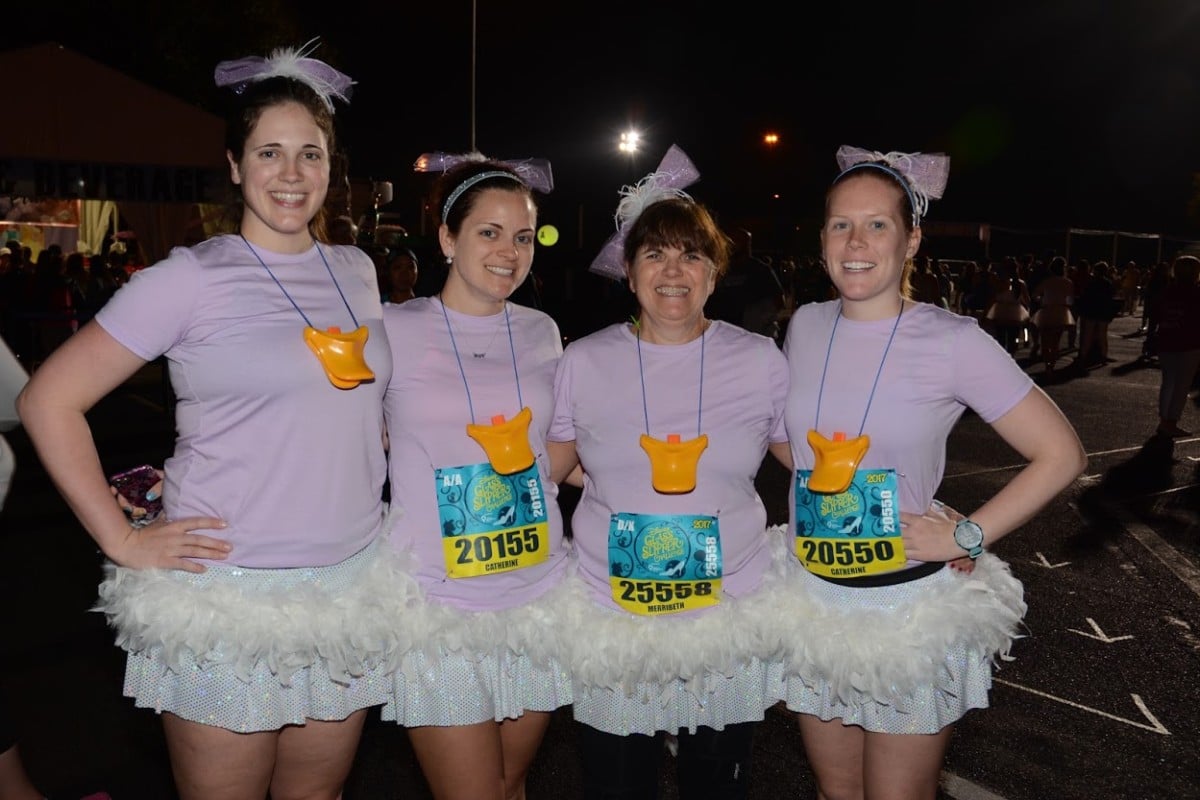 However, we put on a brave face and decided to just have fun and began our adventure with a pre-race corral selfie (a must for any of you who are looking into a race in the future!) and prepped ourselves for the magical 6.2 mile journey ahead. We listened to the announcers prep us for the big send off and then it was fireworks and BOOM! we were on our way!
We spent a lot of the first half mile trying to move through a bunch of congestion, but at about half a mile in we spotted Moana above the parking attendants cheering all the runners on their journey! Next up, was the first mile marker followed by a super sharp right turn! In the turn, you could stop for a cute photo op with Elena of Avalor (we voted to pass on this one). We kept on trucking and soon came upon the fairies. We had to stop as we will be running all of the Tinkerbell races in May!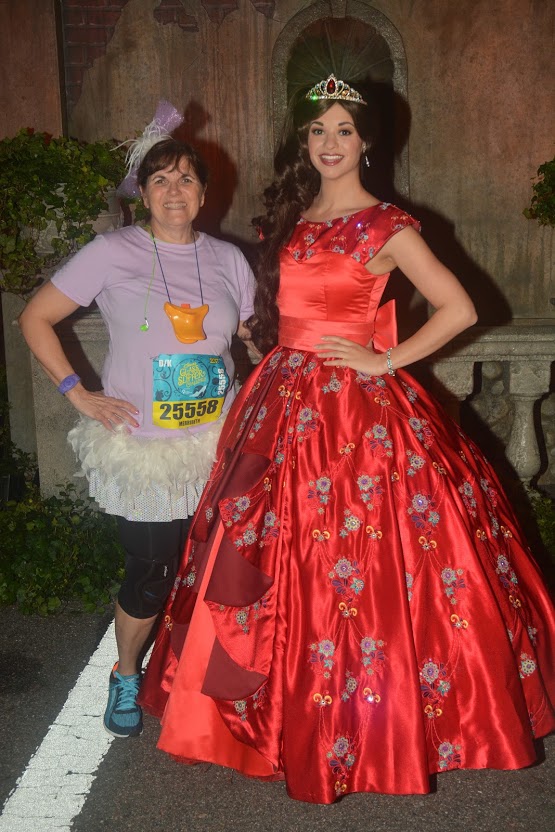 At this point, the course was beginning to thin out a little at least and we were able to really stay on our pace. The next character stop we came upon was the Old Hag from Snow White. We knew we needed to stop for this photo op as she is not a character that is usually out in the parks. The line was pretty long but it was moving pretty quickly.
However, a group a few people in front of all of us kind of slowed things down when they went to check their photo after it was taken and decided that it was "too blown out" on their camera and they fussed at the Disney person taking photos and demanded they get to go again for a few more shots. Now listen, I'm all for getting a good experience and getting in a good picture, but c'mon, the poor Disney guys are doing their best to get a good shot for everyone but it's not like it's ideal conditions. We're handing them sweaty phones, it's dark, and they're trying to stay out of the way of the official photographers on the course. Also, the longer you're taking with the characters, the longer the wait becomes for those in line behind you. Just be courteous to others around you.

After this small snafu we were back on pace and finally beginning to head towards mile 3 and the entrance to EPCOT. Once in the park, we started making our way around World Showcase towards the Boardwalk. There were quite a few picture stops we partook in along these miles – including a fabulous selfie with the workers in France. We even contemplated staying with them and their giant champagne bottles!
This was also the point in the race that we realize how humid it really was that morning. We were both dripping in sweat and had less than flattering sweat stains forming all over our adorable costumes. We kept plugging through the humidity, around the Boardwalk – snapped a photo with the Genie and ran past some wonderful spectators. We really loved having our duck beaks at this point as we made quite a ruckus running around through all of them!
We were headed back towards EPCOT and we spotted Princess Minnie. We stopped for a cute picture with her and then headed towards the finish line. We were really hoping that Daisy would be out on the course, but sadly she was a no go. But we kept on plugging and made our way to mile 6 and dug deep and ran strong through the finish line. We snapped a quick finish line selfie – quacked at our "Aunt Daisy" in the stands, got our medals and made our way to my sister in the stands.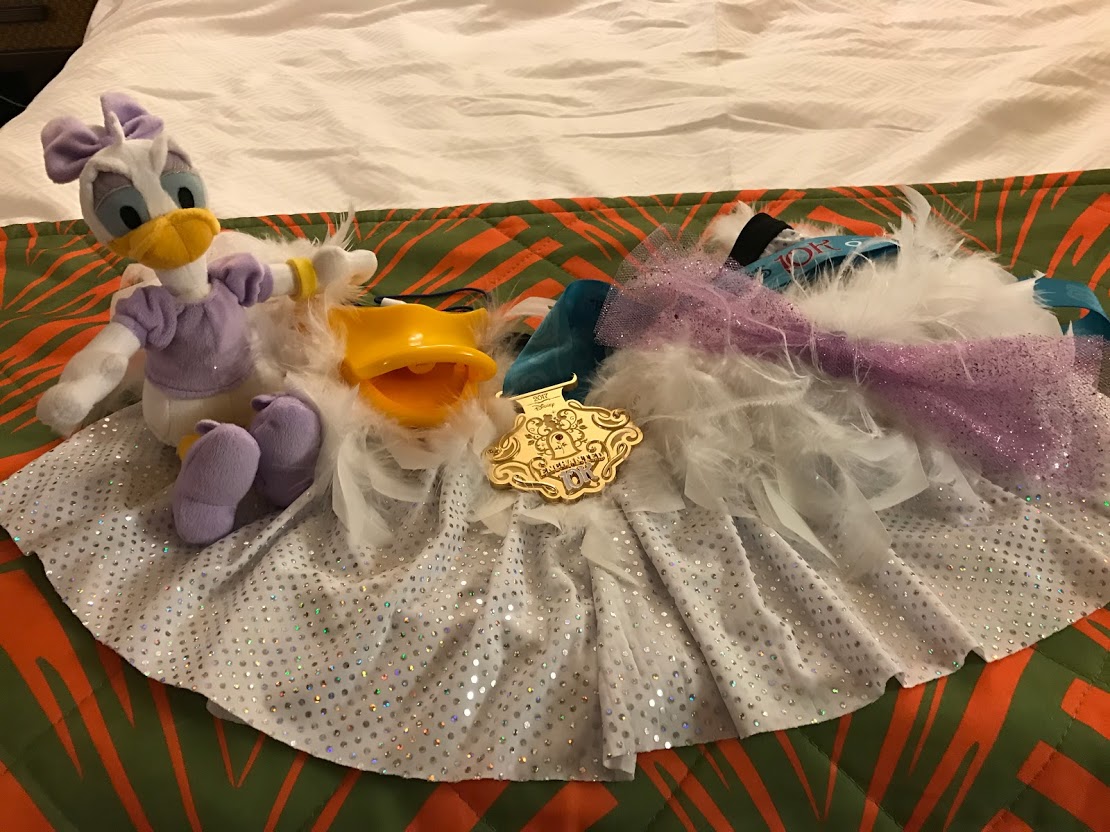 The three of us all got to sit together to wait on our Mom to come through the finish line. However, we completely failed on getting a picture of Mom crossing the finish line during this race, but our reason why is one of the main reasons I love to run and love the running community. The family behind us in the stands was waiting on their runners to cross the line as well. They were really concerned about their family member being swept, but we were able to explain how all of that works. Well, they then explained that they were really concerned because the runner was pushing her sister in a wheelchair for the race. The two of them finished right about the same time our Mom did and in all the excitement of cheering for everyone to have crossed the finish we were too caught up in the moment to think to snap a picture (thank goodness for Disney Photopass)! Also, there were tears – too many tears to have properly used a phone to snap a picture
I think it's always important to remember every single runner has their own personal journey they are completing during a race. Sometimes it's to run towards something, sometimes it's away from everything, sometime it's to prove something, sometimes it's just because you still can run. Watching that sister team cross the finish line and the joy on both of their faces is something that sticks with you. Running and being together made that happen. Running bring people together and there is nothing better than spending a race weekend with family. I'm so grateful that I constantly get to spend race weekends with my family and my friends who  have become like family thanks to running. Plus, these runDisney race weekends provide just a little extra magic to make those memories always have a little extra sparkle on them!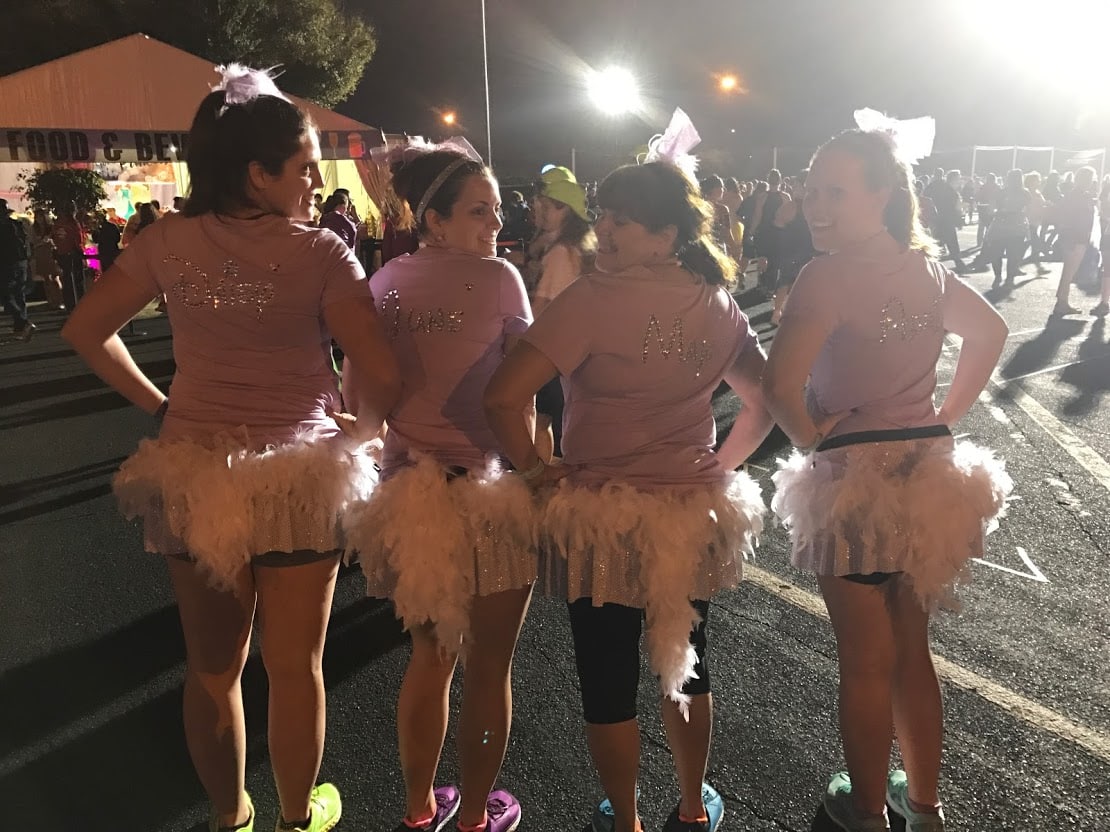 TMSM is very excited to publish the "Racing Disney" runDisney series by Addie Clark and Catie Neal. Please keep an eye out for more of their amazing and informative articles! If you missed of the articles in this series make sure you check them athttps://www.themainstreetmouse.com/tag/racing-disney/