Today In Disney History ~ January 3rd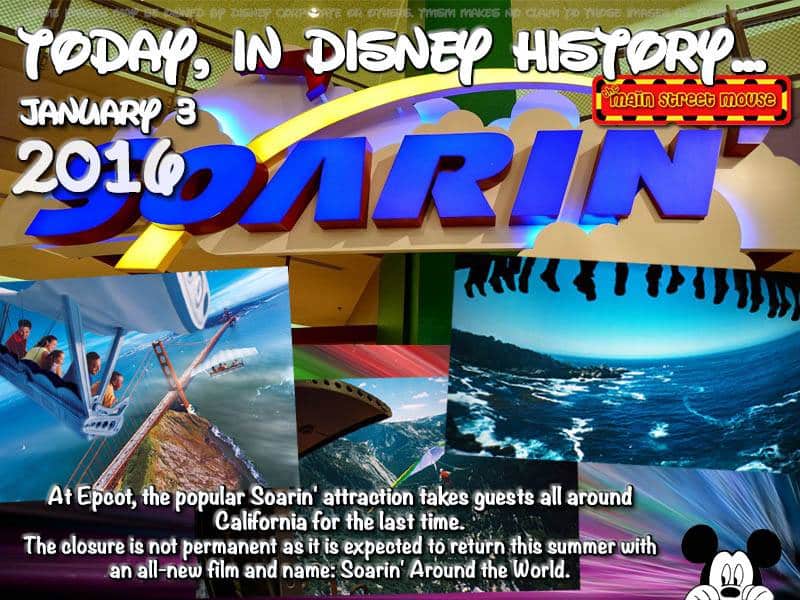 Soarin', also known as Soarin' Around the World and Soaring Over the Horizon, is a flight motion simulator attraction at Disney California Adventure, Epcot, and Shanghai Disneyland. The ride employs a mechanical lift system, a 4K film presentation on an 80 ft (24 m) concave 180-degree OMNIMAX laser projection screen, artificial scents and wind to simulate a hang gliding flight over several locations across six continents around the world.
The original iteration of the attraction, known as Soarin' Over California, was an opening day attraction at Disney California Adventure on February 8, 2001. The initial version took guests over several locations in California, and included a pre-show tribute to the history of California's aviation industry. Due to its consistent popularity, Soarin' Over California was duplicated at Epcot in Walt Disney World as Soarin' in 2005.
The current global version of the ride debuted at Shanghai Disneyland Park as Soaring Over the Horizonon June 16, 2016. Concurrently, the American versions were also replaced with the new film as Soarin'Around the World on the next day, June 17. A fourth attraction was announced in 2016 for Tokyo DisneySea, and is expected to open in 2019.

TMSM Today in Graphic by Sherry Rinaldi DeHart; Wiki