It's been far too long since we've done our Random Acts of Kindness blog. Usually we honor cast members who go the extra mile, and that's exactly what I want to do tonight. This one is a little different though, let me explain.

Last year at our big annual TMSM meet up, we held it at the Magic Kingdom. There was a large group of us, so it was hard to get everyone together for rides and attractions, but we did our best. We had FastPasses for a few rides, including the Jungle Cruise. As our FastPass time approached, the whole mob of us headed over to the Jungle Cruise, hoping for the best, but we weren't expecting what happened next.
As we got to the queue line, we were greeted by the nicest cast member, Alex. I walked up and he said, "Hey, I was hoping I'd see you! I was going to come to the meet up today but I had to work!" After speaking with Alex for a few moments, I realized that he periodically posted on our main Facebook page and such, and I knew exactly who he was. Such a wonderful guy and great supporter. I told Alex we had too large of a group, and I apologized for the inconvenience. He was so good to us, rounded up a couple boats JUST for our TMSM group, and made our experience extra special. I'll never forget that. As we were leaving, we stopped and talked to him some more, I thanked him for all the support, and my admin Autumn gave him a TMSM button that he immediately put on. I gave him a hug, and he said "I'll see you online!" and thanked me for what we do. From that day on, we called him "our Skipper."
The meet up was in October. On February 22, Alex posted this on The Main Street Mouse's Facebook page~
I'm a Disney cast member and I hate to do this but I need all the pixie dust I can get. I have Cancer in my jaw. It hasn't spread and I am now waiting for a surgeon. My spirits are down right now . I have a tumor in my left jaw and yet I go every day to Jungle cruise or Mansion and do my show. I smile cause I love our guests but need some pixie dust myself……Please! So if you see skipper Alex please say hi…I love meeting other Disney fans!
After seeing this, our staff was heartbroken. Alex is an absolute joy, and to hear that he was sick was just awful. They say bad things happen to good people, and this is very true in Alex's case for sure. We heard from him here and there, not about him being sick, it was always Disney related. That was his passion, he loved his job. Sadly, earlier this week, we learned that Alex passed away from cancer. I feel horrible because I didn't realize that his health had gotten this bad, I wish I knew. My heart hurts for Alex, and his family and friends who are left behind. After reading all the messages on his Facebook page, I saw how much he was loved, and how he will indeed be missed. We will miss him too.
Disney Cast Members share magic, even when they're having issues of their own. The kindness they show guests is a true testament on how magical they truly are. Like Alex. Like so many. So thank you Alex, for being so kind to us, and for showing us love and support. Our staff will never forget you, and we are sending love and prayers to all who had the pleasure of knowing you. You will always be "our" Skipper.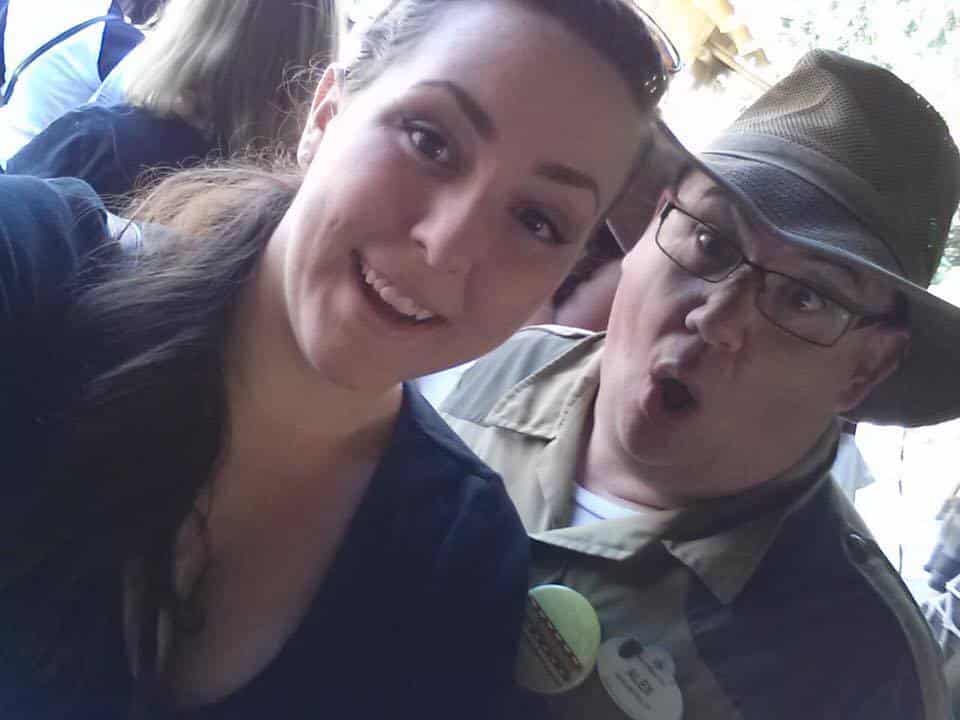 *Alex wearing the TMSM button we gave him.  Thank you Jade Roberts for the photo.
There are a couple gofundme campaigns running for Alex, if you'd like to check them out below.
https://www.gofundme.com/2j9qff3q
https://www.gofundme.com/293um95t