How To Next Level Your Christmas Tree, Disney Style!
Christmas decorating is what a lot of people are doing now, and it's safe to say no one does it like Disney! Here are some tips from the Disney Style blog on how you can make your tree Disneyland style at home!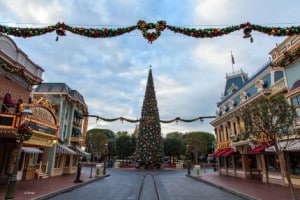 The key to the beautiful Disneyland decorations is one thing: volume. That tree, those garlands, they are all loaded down with large scale ornaments. That's what gives them such a different, more full look than the typical decorated tree that is usually filled with lots and lots of tiny ornaments.
To achieve this volume on a normal tree, without the help of those magical folks and decorating pros from Disneyland, we tried three tricks:
Lights: Instead of tiny twinkling lights, we went with larger bulbs placed far back into the tree.
Bundles: Instead of hanging tons of tiny bulbs all over the tree, we glued and wired several bulbs together to create beautiful clusters. This is also an affordable way to create large scale ornaments, instead of purchasing very large ornaments.
Garland: When you pick the type of garland you'd like to use on your tree, combine two strands by twisting them together. This adds some more volume to the tree decor, and gives the garland a really fancy, custom look.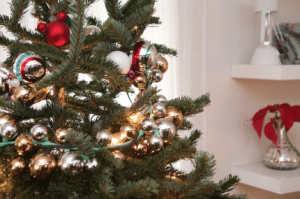 For more tips, check out our new video series where we'll walk you through hosting tips, decorating tricks and more, Be Our Guest!