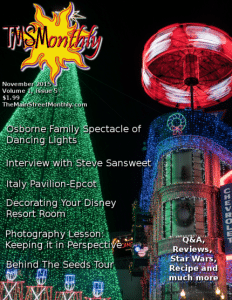 Everyone loves a good deal, right? Especially where Disney is concerned in our case! Well, we're happy to tell you that our magical magazine, The Main Street Monthly, is having a sale today! We've done sales before, but never this big! Today, you can save 50% on a yearly subscription to the magazine by using coupon code "halfoff" at checkout!
Yes, you can get a full year of magic for only ten dollars! The magazine is digital, and can be downloaded from anywhere, so it's perfect for our International readers as well. This month, we're featuring info on food, resorts, the Osborne Lights, personal tips and stories, Star Wars, Marvel and so much more. The magazine info is something that's exclusive to readers, as you can't find these pics and articles on our site!

Be sure to take advantage of this offer while you can! Go to www.themainstreetmonthly.com/store to order, and be sure to enter "halfoff" in the coupon code area at checkout! We hope you enjoy our little early Christmas gift, from us to you! Thanks for reading!