From Michelle Harker, Manager, Merchandise Marketing & Communications, Disneyland Resort and posted on the Disney Parks Blog.
Fall is in the air at the Disneyland Resort, and festive Halloween treats have materialized in Candy Kitchens to kick off the season!
Debuting this year are the Dia de los Muertos apples, cake pops and crispies which have been decorated in minute detail by our Candy Makers to resemble colorful sugar skulls. These delicious treats have been covered in caramel and white chocolate with sanding sugar elements, chocolate candy pieces and, in some cases, even marshmallow flower accents.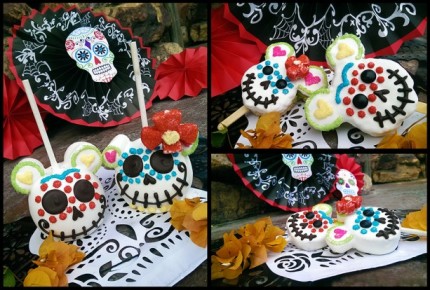 Special Tip: Celebrate Dia de los Muertos (Day of the Dead) with a traditional skeleton display near Rancho del Zocalo Restaurante in Frontierland during Halloween Time at the Disneyland Resort.
Looking for your seasonal favorites? If it has become a tradition to pick up gourmet apples inspired by Halloween Minnie Mouse, Pumpkin Mickey Mouse or Maleficent, you're in luck! Of course, your "mummy" might prefer a cake pop that has been laced in white chocolate, creating a wrapped effect, complete with delicious marshmallow ears and candy-coated chocolate eyes peering from underneath the bandages. How about a pumpkin crispy treat? If that doesn't get you in the spirit of the season, I don't know what will. Who can resist a crispy treat covered in white chocolate, orange sanding sugar and drizzled milk chocolate? I know I can't.
Look for these items and more, available now at Candy Palace on Main Street, U.S.A., at Disneyland park; Trolley Treats in Disney California Adventure park; and Marceline's Confectionery in the Downtown Disney District. Curious what's headed your way October 1? The Dirt and Worm gourmet apple is back by popular demand and adding to the mix will be a Dirt and Worm marshmallow treat and bark. Can you guess what it's made of?