New Disney Launch – Scrooge McDuck Gold and Silver Coins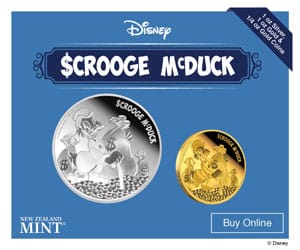 Scrooge McDuck is an iconic Disney cartoon character, created in 1947. The popular and rich uncle of Donald Duck, Scrooge is known for his love of money. Having amassed a vast fortune, his cash is stored in a colossal vault in Duckberg and despite this wealth, Scrooge is not without a soft heart. Created by Carl Barks for a December 1947 comic book called "Christmas on Bear Mountain", Scrooge was an immediate success. This led to his own series of quarterly comic books commencing in late 1953.
In 1967 Scrooge went on to star in the film Scrooge McDuck and Money. This was followed in 1983 by Mickey's Christmas Carol. Scrooge's growing popularity lead shortly after to him becoming the driving force behind the hugely successful animated television show DuckTales (1987 – 1992). Today Scrooge McDuck is loved by fans around the world and is one of Disney's most enduringly popular characters.
The latest Disney Classic coin release from New Zealand Mint couldn't feature a more fitting character illustration than Scrooge McDuck – what a perfect match! These 1/4 oz gold and 1 oz gold coins, and 1 oz silver coin, show an engraved illustration of Scrooge McDuck from his appearance in the classic television series DuckTales. Set against a proof quality background, the design celebrates this Disney character and his love of money! These coins are perfect for Disney fans and coin collectors, and are available from the New Zealand Mint online shop now!