From Pam Brandon, Disney Parks Food Writer and posted on the Disney Parks Blog.
What little girl wouldn't love to be Princess for a day? We had the very special treat of a Sunday morning at the My Disney Girl's Perfectly Princess Tea Party at Disney's Grand Floridian Resort & Spa, accompanying two very special little girls, Hazel and Lucy, to experience first-hand the joys and sweetness of an old-fashioned tea with a little pixie dust.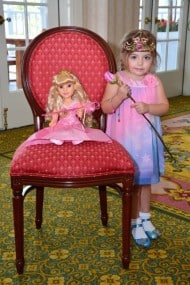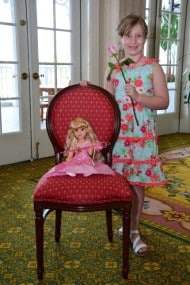 The room was full of little princesses ranging in age from 3 to 9, some in princess attire, and the very fancy party was thoughtfully geared toward every little girl (no boys attended, but they are most welcome). From the regal welcome by Rose Petal, a magical rose from Princess Aurora's garden that comes to life, to the final farewell parade through the elegant lobby of the hotel, the children, parents and grandparents are charmed. It's a non-stop hour of live music, dancing, storytelling and even a fun lesson in Sign Language. The children gather round Rose Petal for singing, and on our special day, Princess Aurora was the icing on the cake when she arrived to the delight of each little girl.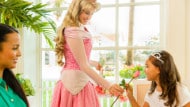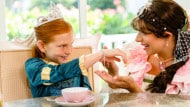 Both Rose Petal and Princess Aurora make a stop at each table to talk with the children and pose for photos, and gifts are delivered nearly non-stop throughout the hour, starting with a tiara from Rose Petal as they enter, and a Princess Aurora doll awaiting each girl at the table. There's also a charm bracelet, friendship necklace, fresh pink rose and a knapsack to carry it all home. For our little friends, all the surprises and royal treatment made it feel like a party just for them. So many photo ops! There is even a Disney PhotoPass photo opportunity to capture the magic.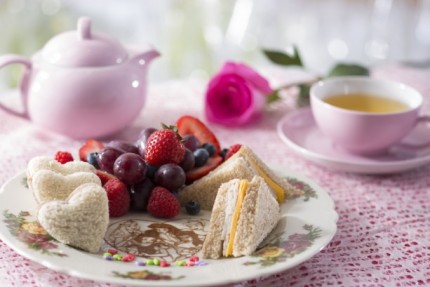 The tea service and apple juice tea for the little ones with heart-cut jelly sandwiches and ham-and-cheese sandwiches was followed by a generous slice or cake with pink strawberry icing. Grown-ups have a lovely plate of tea sandwiches, fruit and cheeses with herbal tea, beautifully served on china.
It's a very special moment to see a little one immersed in the magic of fairytales, especially a 3-year-old who knows the Disney princesses by name. And days after to hear a little voice singing, "Hail to the King, Hail to the Queen, Hail to the Princess Aurora," accompanied with a princess wave. The experience made a lasting memory for our little guests.
Children must be accompanied by an adult, and the price, $334 including tax and gratuity includes one adult and one child ages 3 to 9 (additional guests are welcome to join for $235 per child and $99 per adult). Boys receive a royal Knight's sword and shield, Disney Trading pin and a Duffy the Disney Bear. Merchandise gifts are available for guests up to age 12, by paying an additional fee at the podium upon arrival. For reservations, call 407-WDW-MYTEA. The parties are on select days at 10:30 a.m.