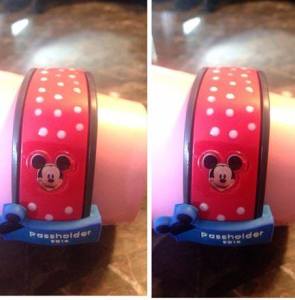 When the Magic Band was first introduced, I thought "Oh man, I don't want to wear that thing in the park", but then I realized how convenient it was and how our family can make them our own. See I'm not one to want to wear what everyone else has. I like to march to a different beat and so do most of my family members. So we quickly started doing research on what we can do to make our Magic Bands different.
In doing my research, I found that nail polish and tattoos were two great options to use on the Magic Band. I really love the classics, Mickey and Minnie Mouse, so for my red Magic Band all I did was add white polka dots using white nail polish to replicate Minnie's classic dress. Then I found a small Mickey sticker to put on top of the Mickey on the band. To leave the Mickey in place and to water proof it I just put 2 coats of clear nail polish over the top. That's it! I made this band over 3 months ago, go to the parks every weekend if not more, and nothing has come off yet. And yes, the Magic Band still works when going through the gates and at the Fast Pass locations.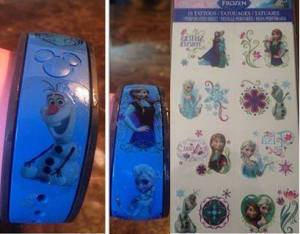 Before Disney released the Frozen Magic Band, my daughter wanted me to make her one. So I found these Frozen tattoos at a local Party Store and began making it. First I applied the tattoo like instructed on the package and let it dry. Once dry I applied clear nail polish to seal it in. I used 2 coats.
The great thing about tattoos is there are so many designs to choose from. Right now my kids have me on a hunt for Star Wars tattoos since we are renewing our annual passes soon, we will have another Magic Band to design.
When making your design whether it's with tattoos or just nail polish, make sure your Magic Band is in the closed position. This will prevent any cracking of the tattoo and the nail polish. If you mess up with the nail polish, simply wipe off if still wet or use nail polish remover.
*Disclaimer: TMSM is in no way responsible for the damage of Magic Bands. Use discretion when decorating!
Repoting By Janel Adani