From Shawn Slater, Communications Manager, Walt Disney Parks and Resorts Creative Entertainment and posted on the Disney Parks Blog.
What if there was a place … a secret place where nothing is impossible?
You wanna go? Well, soon you can, when Disney's riveting mystery adventure "Tomorrowland" makes its debut in theaters. In the meantime, visitors to Tomorrowland at the Disneyland Resort and Epcot at Walt Disney World Resort can catch an exclusive preview of scenes from the movie.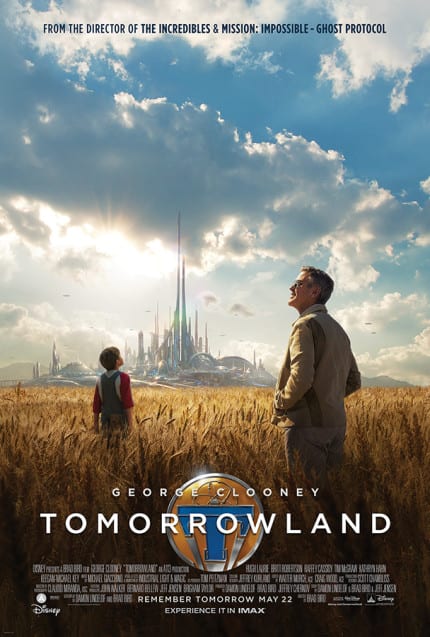 For a limited time, a sneak peek of "Tomorrowland" will be presented with special in-theater effects at the Imagination Pavilion theater at Epcot and the Tomorrowland Theater at Disneyland park.
Directed by Oscar® winner Brad Bird and starring Academy Award® winner George Clooney, "Tomorrowland" tells the story of a jaded scientist and an optimistic teen who embark on a danger-filled mission to unearth the secrets of an enigmatic place somewhere in time and space. "Tomorrowland" features a screenplay by "Lost" writer and co-creator Damon Lindelof and Brad Bird, from a story by Lindelof & Bird & Jeff Jensen.
The Disney Parks-exclusive "Tomorrowland" sneak peek begins in mid-April at Epcot and Disneyland park. With every second that ticks by, the future is running out, so be sure to take advantage of this special opportunity before "Tomorrowland" opens in theaters on May 22, 2015.