A Disney Style Editor's Romantic Disneyland Engagement
From the Disney Style blog
Here at Disney Style, we don't just talk about Disney, we actually love it as much as you do! That's why it was EXTREMELY fitting for one of our own editors to receive a surprise proposal at Disneyland earlier this month.
Disney Style staffer, Nicole, has been a Disney kid her entire life. Her dad was a cast member for ages, she's been to all the Parks more times than she can count, and she most certainly owns a Bambi-print romper. If you need a Fastpass strategy at Walt Disney World or want to remember a critical Disney history fact, Nicole is the person to go to.
Disney has been an integral part of her relationship with high school sweetheart David, especially the Parks. "David grew up going to Disneyland too, so we have always had a mutual love for all things Disney. One of our first dates was going to Disneyland, and I took him on his first trip to Walt Disney World. We just have so many fun memories at the Parks together and always have the best time when we're there together." The cuteness between these two is real.
Because Nicole is at Disneyland fairly frequently, a recent Sunday visit didn't seem like such an unusual event. Accompanied by her sister and a friend, Nicole was just having a typical day in the Park. She was much more concerned about hitting Space Mountain at her Fastpass return time than going on Mark Twain Riverboat, which for some reason her friend was insisting on. "Johnny said he wanted to go ride the Mark Twain Riverboat because it was his girlfriend's favorite spot at Disneyland when she was young."
That's when Nicole started to get suspicious.
"The Mark Twain Riverboat is where I found out that David liked me. I tried to forget about it though, and when we ran over to catch the boat we missed it. Then, we tried to catch it a second time and missed it again! Johnny and my sister made us wait for it to come back so we could finally get on the boat."
We love to imagine poor David, waiting on the  boat, wondering where the party was as he cruised around the Rivers of America several times.
Finally the group made it onto the attraction and picked a spot to enjoy the ride. That's when David spotted them, walked over, and surprised Nicole. "I was looking out at the view and he came up behind me and said something like 'It's really pretty out there isn't it?' Then I turned around and asked him what he was doing there, and he said 'Well, I'm not at work, obviously.'"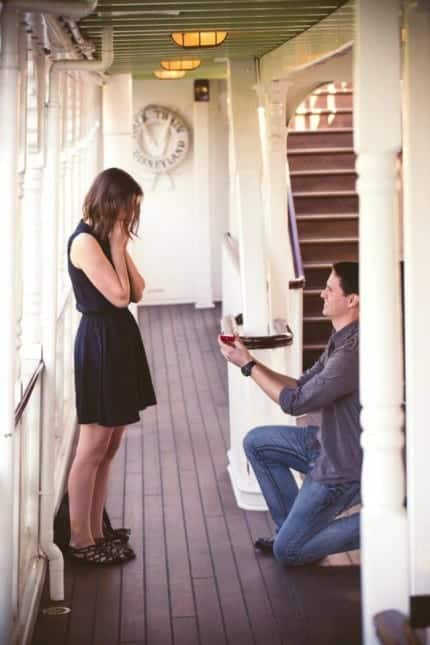 At this point, Nicole's memory goes a little blurry. She's pretty sure David some some incredibly sweet things, and that when he asked, she said yes.
What Nicole didn't know was that someone was capturing the whole surprise with amazing photos, and that a new outfit (picked out by her mom and Disney Style approved), was waiting so that she could change and take some photos around the Park to commemorate the day.
The best part of this proposal was that it wasn't the typical Sleeping Beauty Castle + fireworks show situation you expect with a Disneyland proposal. Nicole's (now) fiancee chose a spot that had significance to both of them. It also allowed for them to get some great photos of the moment that weren't too crowded.
"I couldn't have asked for a better day. I had secretly hoped that David would propose at Disneyland, especially on the Mark Twain. It's become one of my favorite spots in the Park, thanks to the meaning it has attached to it for us. It was such a whirlwind of a day, and now anytime I look at the pictures, I get the biggest smile on my face thinking about how much fun we had."
The whole staff is extremely excited to see what Disney touches Nicole adds to her wedding decor, and to throwing her the most epically Disney bridal shower in matrimonial history.