From Russ J. Stacey, Writer, Yellow Shoes Creative Group and posted on the Disney Parks Blog.
Take one look at Jon Secada's résumé and it's no wonder he's been so successful. One of the first Latin crossover stars, he's a Grammy winner who's sold over 20 million records. Also an accomplished performer, songwriter and producer, Jon's starred on the Broadway stage and has collaborated with some of the biggest names in the business—from Gloria Estefan to Frank Sinatra. He even performed for Pope John Paul II.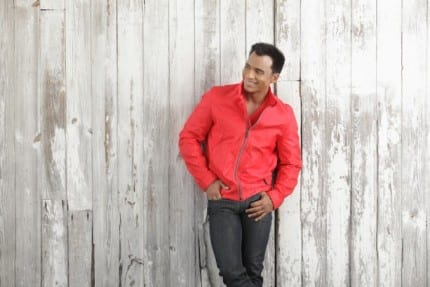 Lucky for us, he took time out of his busy schedule to chat about his upcoming debut at the Epcot International Flower & Garden Festival (running March 4–May 17, 2015), his career and also his history with Disney.
RUSS: What will it be like to grace the Garden Rocks Concert Series stage for the first time?
JON: Looking forward to it! This will be a different experience because I'm used to playing Epcot in the fall. It should be a lot of fun to experience the park at a different time of year.
RUSS: So what can audiences expect?
JON: The hits. Everything that people know me for over the past 20-plus years. My show's going to incorporate a little bit of everything that's a part of my career. But for the most part, it's a high-energy show with a concentration on the up-tempo stuff in my repertoire. That's what I like to do. Keep the people moving. Everybody's walking around and being active. So I like to be active as well.
RUSS: Will you have the same set list for each show, or mix it up?
JON: There are certain songs that stay the same. But the rest, I kind of mix and match with different recordings that I've done. So for each set, the fans will get the core songs that people know me for, and then they'll also get a taste of something different. Maybe a couple of songs that they didn't hear in the last set. That way, it draws people who maybe saw the last show. You can go knowing that you're not going to experience the exact same set.
RUSS: How would you describe your music?
JON: It's pop but with a fusion of different flavors. I grew up listening to R&B, rock, Latin music and jazz. I also studied jazz music. So my music has been kind of a fusion that's integrated so many styles. There are melodies, hooks and lyrics that you remember and can sing along to. So that's always been kind of the essence of my career and my recordings.
RUSS: I'm glad you brought up your different influences. How does it make you feel being one of the biggest bilingual crossover stars in the world?
JON: I was very fortunate in the early '90s when my career got off the ground because I was one of the first artists to have success in both languages. And it created a wave of colleagues, friends and other artists who followed during that decade. It's been the difference maker in my career. And I'm very proud of my heritage, very proud to be Hispanic-American.
RUSS: Will you be bringing your family?
JON: Yeah, they'll be coming with me. They love the opportunity every time that I perform to enjoy the parks. We take advantage of maybe spending an extra day or so, whether it's before or after the shows, to hang out and enjoy all that Disney has to offer.
RUSS: What do you hope people get out of your shows?
JON: Hopefully a strong, very organic, very transparent performance. There's not a lot of sequencing going on. I truly sing live. I just love leaving it all on stage and being just as high energy and passionate as possible.
RUSS: Your admiration and respect for your fans is obvious.
JON: I owe everything to my fans. It's the reason I have a career. They've really followed me through all the different paths that I've taken. And so I really appreciate that.
RUSS: You have a new book, "A New Day," out. Tell us about it.
JON: Yeah. It was released in both English and Spanish a few months ago. It's a memoir reflecting on my life and 25 years in the business, incorporating who I am as a Latino. I was very humbled, very flattered when I was approached to do this book.
RUSS: One last question. Just how big a Disney fan are you?
JON: (laughs) I'm a huge fan. My children grew up going to the parks. But I've also done a lot of work for the Walt Disney Company through the years. My first big project was the "Pocahontas" soundtrack; I did a duet with Shanice called "If I Never Knew You (End Title)". And we sang it in English, Spanish and Portuguese. I did the Christmas Day Parade here at Walt Disney World Resort a few years ago. Yeah, so, I've had a 20-plus year experience doing different things for Disney along the way. A lot of memories there. Plus, I'd say I go the parks at least twice a year. And my kids, they're growing older but they still love that experience!