From Shawn Slater, Communications Manager, Walt Disney Parks and Resorts Creative Entertainment and posted on the Disney Parks Blog.
As a special holiday offering, guests visiting Magic Kingdom Park will have the opportunity to see the actual coach featured in the upcoming live-action Disney film, "Cinderella." A team of white horses will pull the dreamlike carriage in special pre-parade appearances through the park and down Main Street, U.S.A.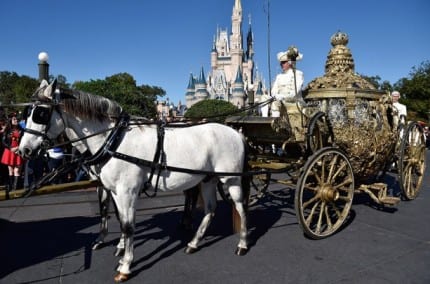 Inspired by the classic fairy tale, "Cinderella" brings to life the timeless images from Disney's 1950 animated masterpiece in a visually dazzling spectacle for a whole new generation. The stunning, golden coach from the film will be gracing the parade route at Magic Kingdom Park through the holidays, and can also be seen as part of the "Disney Parks Frozen Christmas Celebration," airing Christmas Day on ABC.
"Cinderella" opens in theaters March 13, 2015.