TMSM's Adventures in Florida Living ~ Baby It's Cold Outside!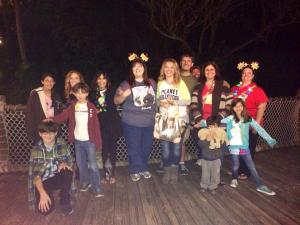 It's Wednesday, and time for our weekly Florida Living update! And yes, it's cold here in Florida today, believe it or not! Now, before anyone gets on my case, I fully understand that the Northern states have it MUCH worse than we do down here in Florida. When I say it's cold outside, I mean cold for Florida. We hit a record low this morning for this time of year, it was in the 30's when we got out of bed. It's funny, but we're coping with it better than others that I see, because we're used to below zero temps up in Michigan. I think my dog Jack was more bothered by the cold than we were, he didn't want to go outside at all the past two mornings! Poor Jack! But have no fear, it's going to warm up again by the weekend!

So besides being colder than usual….. what else has been going on the past week? Not a whole lot really. However, we did get to meet up with some Main Streeters on Saturday night at the Magic Kingdom! That was fun, always is! We stayed back away from the crowd in front of the Castle during the Frozen lighting ceremony. I swear to you, it's absolute insanity there for this show. Too much pushing, shoving, arguing…… not worth it! We had a nice time though, it's great to see people and hang out. Saturday afternoon before going to the MK, I went to my friend John's house, aka, BigFatPanda, to record my guest spot for his November show. That was a great time! I was scared to death truthfully. It's not easy for me to be on camera, let alone perform a skit (yes, I did a skit), but sometimes I think we have to force ourselves out of our comfort zones. So not easy, but so much fun. When I woke up on Sunday, I had an OMG moment, like "what did I do yesterday" and felt a pinch of worry and regret. Did I say the right things? Did I do alright? Will the skit look ridiculous? Insecurities are a downer, and even I have them here and there. I suppose it doesn't matter, because my part is done, and will be out for all to see after Thanksgiving! Go easy on me, ok? LOL!
The kids have the full week off of school for the holiday next week, which is a new thing for us. Back in Michigan, the kids just got a long weekend for Thanksgiving. They are excited for the break, and truthfully, we are too. Less running around will be a good thing, and I hope to get some other things done for our sites in the meantime, along with getting some quality family time in. I guess we'll see how it goes! This weekend I have Autumn coming to town, and we're going to see the Osborne Lights with them. I'm looking forward to that! The weekend weather looks much better, and I'm thankful to be down here instead of up where the snow is. I don't miss the snow….. not yet anyway! We'll see as it gets closer to Christmas time!
That's it for this week's Florida living update! I very much appreciate you reading and following along with us each week! Next week is a holiday week, but I'll still give you an update of course!! I thank you, as always, for being so supportive of our efforts and keeping up with us like extended Disney family! Till next week….. See ya real soon! ~M
Michele Atwood is the Owner/Editor of The Main Street Mouse and it's subsidiaries and author of the book "Moving to Main Street U.S.A." Michele also contributes Disney news to the Joe Kelley Morning Show on 96.5 WDBO in Orlando. She and her family made the move from Michigan to the Orlando area to pursue their Disney dreams. Michele is a life long Disney fan, and has two sons who have followed suit, each going on their first Disney trip before their first birthday's. Part of the goal Michele has for The Main Street Mouse is not only to keep members informed, but to create somewhat of a Disney Family by relating to others through personal experiences and opinions. Also, Michele is making it a priority to share stories of inspiration and hope to other Disney Fans in an effort to share the Magic and hopefully make a difference in the lives of others.