Michelle Harker announced the Disneyland Gourmet Apple for August and I have to say, this is one I would love to try.
I'm a pretty big peanut butter and pretzel fan. So what happens when you combine those two ingredients with an apple at the Disneyland Resort? We wanted to find out, so we challenged our Disneyland Resort Candy Makers to come up with the perfect recipe and here's what they have to share with us.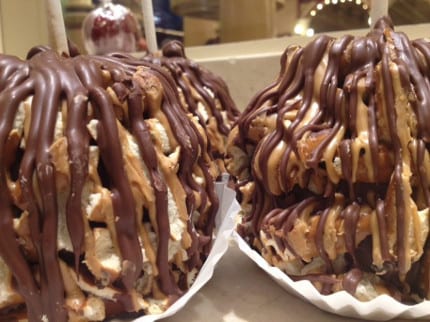 A tart apple dipped in smooth caramel and enrobed with sweet milk chocolate, adorned with crunchy and salty pretzel pieces and drizzled with creamy peanut butter and sweet milk chocolate.
The Peanut Butter and Pretzel gourmet apple can be found during the month of August at the following Disneyland Resort locations:
Disneyland park – Candy Palace
Disney California Adventure park – Trolley Treats
Downtown Disney District – Marceline's Confectionery
Will you try it?