Disney Cruise Line Summer Recipe: Cajun Shrimp Slaw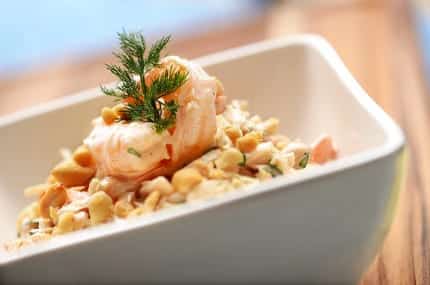 In the continuing series of Disney Cruise Line Summer Recipe's, Stephen Walker, Fleet Culinary Standards and Consistency Chef, Disney Cruise Line has a new one for today.
If you've been on a Disney cruise, there's no doubt you've noticed the variety of cuisines available for you to try. Part of the fun of traveling is experiencing new things, which we make possible for our guests in many ways … including dining!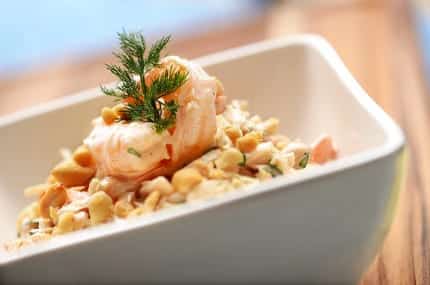 Today's dish is Cajun-inspired, so its preparation is simple. Just toss all of the flavorful ingredients together for a delicious Louisiana-style meal!
Check out the full recipe below and download our keepsake recipe card here. Enjoy!
Cajun Shrimp Slaw with Louisiana Sauce
Serves: 6
Skill Level: Easy
Time: 40 minutes
Ingredients
1⁄2 white cabbage
5 21–25 shrimp (cooked and peeled)
1 white onion (finely sliced)

1 carrot (shredded)

1 tsp. horseradish sauce

3 drops Worcestershire sauce
2/3 cup mayonnaise
1⁄4 cup tomato ketchup
1 tsp. cajun spice

6 drops Tabasco sauce
3 tbsp. roasted peanuts
1 lime (juiced)
1 tbsp. curly parsley (chopped)
salt and pepper

1 tsp. picked dill for garnish
For the Cajun Shrimp Slaw
Place all the ingredients into a bowl and gently toss together.
 Season (finely shredded) with salt and pepper.
 Chill before serving.
Co-Owner / Webmaster / Business Relations / PT Writer
As co-owner and co-creator of The Main Street Mouse. Working in a technical support position for 18 years, it was time for a change. As the Webmaster and Project Planner, I spend most of my time researching everything from the latest Disney News, technology advances and of course keeping up on all the Marvel news that comes out. I never considered myself a writer but I've come to like blogging and sharing news with all. I feel blessed everyday that I get to spend my days working with my best friend and love of my life while we continue to grow and expand what started as a hobby all those years ago.