Music and Disney By John Leever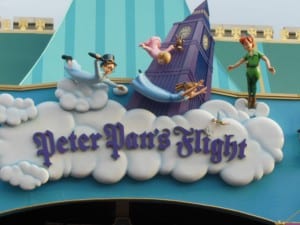 Music and Disney By John Leever
Music has been a part of Disney from the whistling Mickey Mouse in his first appearance in Steamboat Willie, to its latest feature Frozen and it's award winning song "Let it Go". And Disney has been winning awards for its music forever. So it is no surprise that music is part of the Disney Destinations, in the theme Parks and the resorts.
Some of my favorite songs are Disney songs and when coupled with a Disney attraction make for a happy heart, a tearful eye, a smile on a face, and a moment of joy that you experience every time you go to that attaction. A great example of this is the Peter Pan attraction in Fantasyland, "When there's a smile in your heart". When I'm walking in Fantasyland near the Peter Pan attraction and I hear the music, I can't help but feel that joy and magic of a boy who can fly and even though we are having a great day, somehow it gets better and I smile brighter.
Now Small World was not always my favorite thing to do. Some people have told me they do not like the song and while I did not dislike it, I was not fond of it. But after riding it with my god-daughter and nieces and seeing the ride through their eyes and then actually paying attention to the words:
It's a world of laughter
A world of tears
It's a world of hopes
And a world of fears
There's so much that we share
That it's time we're aware
It's a small world after all
The message of the song and the sights of the attraction are so uplifting that it is a favorite of mine now and a song I love.
If you have ever been to Disney's Polynesian Resort (Poly) you could not have missed the beautiful grounds bright flowers, lush foliage, and exotic buildings. But when you add the soft Hawaiian music it takes you to another world. After a long day at the park, the idea of walking back to your building can seem daunting, but when I hear the peaceful music playing along the torch lit path, I feel at ease and calmed. And the Poly had, but is gone now, one of the most magical places to listen to the music. I am referring to the old main pool; the one before the Volcano pool. When you put your head under water and just listened, the music of the Poly was played there too.
I'm not good at picking a favorite of anything and when people ask me what is your favorite Disney song, it is hard for me to pick just one I want to tell them a dozen or more and it is hard for me to think when put on the spot. But of those dozens is "When you wish upon a star" and may actually be my favorite Disney song. When I hear that during Wishes, the nighttime fireworks display at the Magic Kingdom in WDW, it is the magic and joy of Disney.
I could go on and on about the music of Disney and how it is woven into Disney Attractions and Resorts like in Winnie the Pooh "the rain rain rain comes down down down", "yo ho yo ho a pirates life for me", "there's a great big beautiful tomorrow", even the steel drum music playing at Ole Port Royal in Disney's Caribbean Resort, and I might just do that in another blog. But I would like to hear from you what music at Disney is special to you? And maybe why it is special?