I Love Disney Pins ~ By Dianna Standen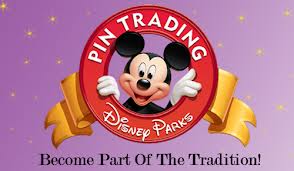 Some of you know just a little about Disney Pin Trading, well here is some behind the scenes info. This is about pins on a personal level. I am going to cover pin traders and pin trading coast to coast. Now what I am covering is private groups, ie, not Disney sponsored or coordinated. This past weekend there was a large event in FL just outside Walt Disney World and next weekend, the 22nd and 23rd, there is a big event in So Cal. So lets start in sunny Florida, here we go…..

The 'I Love Trading' pin and vinylmation event was at the Holiday Inn by Downtown Disney this past Saturday. About 120 people were there and a blast was had by all. My husband and I traded for 36 pin, 7 buttons, and a Little Mermaid trading bag to go into our collections. Let me tell you about our history with pin trading. I got my first pin in 1998 when my high school band went to Disney World to participate in the Magic Music Days program. My next pin I was given by a guest when I was a part of the College Program, it was all down hill from there, I now have about 700 pins. My husband was hooked the moment we got together 3 years ago, he now owns about 900. Most of you know there is an annual Disney sponsored pin event once a year in September, at that event in September 2011 my husband proposed to me. I believe pin trading is a beautiful, educational hobby. I have met some amazing people that I never would have known otherwise.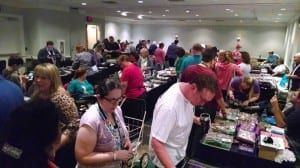 So you wanna come trade with me? No problem, here are the details. There are two major groups that put on events here in central Florida; Mouse Pin Trading and Central Florida Disney Pin Chasers. Both groups are on Facebook, with individual event details there. The Central Florida Disney Pin Chasers meet once a month on the first Saturday, Mouse Pin Trading meet several times per year. Both offer raffles, lots of chances to trade, to make new friends, and loads of fun. As of posting this, the next Central Florida Disney Pin Chasers event will be 'March Madness' on March 8th at the All Star's Sports Resort. The next Mouse Pin Trading will be March 22nd and 23rd at the Holiday Inn for their first two day event.
Now don't feel left out if you are in the Golden State, there are plenty of events there also. There is actually one next weekend at the Station Bar and Grill that is free, though the restaurant asks that people purchase some food. They have raffle tickets for sale to win prizes with profits going back into the group. The two groups there are the So Cal Disney Pin Traders and Pinholics, again both have Facebook pages to get details on events.

The fearless leader of Pinholics, Shawn Kloth, is new compared to me, but I have learned that number of years in pin trading years doesn't mean much. His first pins were given to him by his wife to trade with a Cast Member and that was the start of a beautiful friendship. Shawn is a little different from me, he trades just to trade where I trade to keep. In other words, I have pin that I will never trade where he will trade all his pins for the right pins. Another way we differ is that I collect Ariel and Shawn collects mostly Villains, but we have a respect for each other as pins traders.
If you are in one of the other 50 states, have no fear, there are pin traders all over the U.S. and the world. There is a large group in New Jersey called Central Jersey Pin Traders, that have events every few weeks. Including two, two-day events a year. Their next event is February 21st in Summerset, NJ.
Now lets say you are new to pin trading or you want to get started, here are some tips. This is not Pokemon so I wouldn't try to catch them all. Select a character, attraction, movie, or subject and stick with it. At the moment there are just under 100,000 pins that have been made. Yes, there are supposed to be 5, 0's in that number. Be careful with where you get your pins from, just like with anything of value there are fake, or scrapper pins out there. If a deal seems too good to be true, then it probably is. If you would like some advice find a pin trader you trust, ask someone in one of the groups above, or send me a message (Dianna Standen).
I asked several of my friends for what advice they would offer new pin traders. Here are a few:
Start for the pins, stay for the people.
Ask someone who is experienced to share their knowledge about the hobby.
Do your research before jumping in.
Remember it is not just about the pins.
Keep the magic thought the journey.
Here are some links to the groups I listed above:
For CA:
https://www.facebook.com/groups/140955009427790/
https://www.facebook.com/groups/SoCalDisneyPinTraders/
For FL:
https://www.facebook.com/MousePinTrading
https://www.facebook.com/pages/Central-Florida-Disney-Pin-Chasers/433263703364412
For NJ:
https://www.facebook.com/groups/13702274963/