Upcoming WDW Events
Here's a rundown of just a few of the events coming this year to WDW, courtesy of Dianna Standen!
Since we have started a new year some of you are planning (or dreaming) of your next Disney World and Disneyland vacations. I want to give you the scoop on what is coming up and what to expect at each event. I will do my best to include all the information you need to know, some of these events are not set in stone for this year yet. Enjoy and happy planning.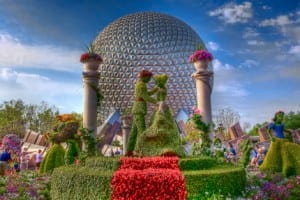 Sun, Smells, Flowers, and Gardens
I figured I would start this series with the first big event of the year, the 21st Annual Flower and Garden Festival. This is one of Epcot's longer events. This year the festival will run March 5th thru May 18. There is so much to do at this festival; you can spend the day just seeing all the sights. There are concerts, tastings, shopping, presentations, and of course flowers. My first suggestion is when you get to the park in the morning pick up a map and see what all is going on. This is included with your Epcot ticket, but some private events, such as tastings and seminars, have a separate ticket price. If you want some great pictures, ride the monorail to Epcot (even if you just ride to the Transportation Center and back) and have your camera ready as you get an amazing overhead view of all the flowers.
Flowers, oh the smells, and the pollen, if you have allergies like me, not to fear you can still enjoy all the sights and smells without being miserable. I have found that if you take your allergy medicine BEFORE you get to the park is a big help, and make sure if you are taking a 4-6 hour dose, to bring extra and keep up with your dosage. If you get caught without it visit First-Aid or go to any merchandise register and ask for the medicine box. Here is where I also add that this will be the sunniest time of year so if you are fair skinned or don't like the sun just beating on your skin all day bring an umbrella. It will keep you cool and protected.
The Flower Power Concert Series is in the American Theater, hosts different musical acts each weekend. Bands like The Guess Who, Gary Lewis and The Playboys, Village People, and The Grass Roots play Fri thru Mon at 5:30p, 6:45P, and 8p. These dates are subject to change so if you are planning to see a specific band make sure they will be playing when you are there. Like most especial event get there early, but you can hear the music all throughout the American Adventure of you can't get a seat.
The Outdoor Kitchens will be back, think of them as a spring food and wine festival. As of now there are 11 food and wine style booths that will be set up around World Showcase. You can taste, fresh Florida Fruit and other spring flavors from around the world including, Mexico, Japan, China, Canada, Italy, and United Kingdom. If you have ever been to the Food and Wine Festival you are familiar with the F&W passport or the Holiday Passport in the Christmas season, well make sure you pick up your Garden Passport and get all the stamps that go with it. There is no charge and it is something fun for the kids to do.
The Festival Center, the brain of the festival, is where the seminars, tastings, and much more are. It is between the Universe of Energy and Mission Space, in the former Wonders of Life dome. Things here include; Intermission Café, HGTV Theater, Planting Pointers, Ask and Expert, Greenhouse Stage, and the Designer's Stage. He is where you can also pick up a Garden Passport, meet with expert gardeners and much more, as always check your times guide for the details. We have seen all the great Flower and Garden merchandise and here is where you can get it, also at pavilions located in Showcase Plaza.
There is also stuff for the little ones with green thumbs. The Garden Passports are great for them. The Car's fans have Mater's Parts, Plants, and Play Garden, Monster's fans have Mike and Sulley's Monstrous Garden, for the Tinkerbell fans there is the Tinkerbell Butterfly House, and for all the little ones there is the Backyard Play Garden. The kids also really enjoy seeing their favorite characters as topiaries, such as Belle and Beast in Italy, Winnie the Pooh and friends in United Kingdom, Aurora and her prince in France, as well as the Fab Five and many more.
Use this link to get all the up-to-date information on all that is going on.
https://disneyworld.disney.go.com/events-tours/epcot/epcot-international-flower-and-garden-festival/
May the Force Be With You! Star Wars Weekends!
George Lucas, Darth Vader, Han Solo, C3PO, and R2D2, if I have gotten your attention now this section of the article is for you. Every year the Star Wars Universe descends on Disney's Hollywood Studios for 4 weekends in May and June and this year is no different. Here is where I am totally honest and say 'I have no clue when it comes to Star Wars' but my husband does so here we go. This is one of the events for all ages, you have the original Star Wars movies to the newer TV show. All the events are included with your Disney's Hollywood Studios ticket but things fill up very quickly.
Two of the things that fill up first are the Jedi Training Academy and the Interstellar Autographs with the Stars. If your Jedi-to-be is between 4 and 12 they are welcome to sign up for the Jedi Training Academy and be taught to wield a lightsaber by a Jedi Master. Only 12 Jedi-to-be are chosen for each Academy class, so they fill up quickly. You can sign up outside the ABC Sound Studio starting at park opening. Autographs with the Stars schedule has not been released yet and varies from year to year. I can't stress how quickly these queries fill up. I know people who have gotten at the turnstile as early as 6am for meet and greets.
Darth's Mall holds all the Star Wars and Star Wars Weekend merchandise you could need. It is located in a backstage area between Rockin' Roller Coaster and the Tower of Terror; you enter through the Rockin' Roller Coaster courtyard. If you are a Tower of Terror fan head back that way for some really cool rarely seen view of the Tower, I have gotten some great pictures from there, especially at night. In the mall you can pick up; pins, vynalmations, art prints, t-shirt, magnets, coins, statues, figurines, and so much more. Last year they offered name tags with your name personalized in Star Wars languages, they went quickly so I would get them early in the weekend/day.
This is another weekend where it is allowed if you'd like to dress up as your favorite Star Wars character. The same rules apply as Halloween; ie. no pretending you're a Cast Member; some costumes are not attraction friendly. Another must see is the afternoon parade and stage shows, there is also a dance party, as usual check your times guide for the details.
Use this link to get all the up-to-date information on all that is going on.
https://disneyworld.disney.go.com/events-tours/hollywood-studios/star-wars-weekend/
run Disney
runDisney is for the runner, joggers, and walkers out there, I am not one of them. This is a year round event so I am just going to cover what is left of this year. There are 7 scheduled (two are already over) for this year. There are two at Disneyland and 4 at Walt Disney World.
Here are the runs for this year, the dates, location, and events at each run. *- event is full for individual runners as of 2/2 but check for other options to register:
Princess Half Marathon Weekend – Feb. 20-23 – Walt Disney World. This includes the Half Marathon*, Enchanted 10k*, Glass Slipper Challenge*, Royal Family 5k, and Kids Races
Expedition Everest Challenge – May 3 – Walt Disney World. This includes Everest Challenge*, Family Edition, and Kids Races.
Disneyland Half Marathon Weekend – Aug. 28-30 – Disneyland Resort. This includes the Half Marathon*, 10k*, Double Dare*, Family Fun Run 5k*, and Kid's Races*.
Twilight Zone Tower of Terror 10-mile – Oct 3-4 – Walt Disney World. This includes The 10-miler, Happy Haunted 5k Trail Run, and Kid's Races.
Disney Wine and Dine Half Marathon – Nov 8-9 – Walt Disney World. This includes the Half Marathon, Jingle Jungle 5K, and Kid's Races.
Coast to Coast medal, if you are an avid runner, check out detail on how to get this medal.
All the races come with medals and t-shirts. There are other events besides the runs for the runners, including receptions, tastings, and more. Check the schedule for each race's specifics.
So if you don't race, but still want in on the action, then volunteer. With each time you volunteer you earn points toward Disney park tickets. Check out the volunteer page for all the details.
Use this link to get all the up-to-date information on all that is going on.
www.rundisney.com
Also this year, there will be of course the Epcot Food and Wine Festival in the Fall, as well as the Holiday parties for Fall and the Christmas Season. Look for more details on those too, we will keep you informed on all the happenings!
Michele Atwood is the Owner/Editor of The Main Street Mouse and it's subsidiaries and author of the book "Moving to Main Street U.S.A." Michele also contributes Disney news to the Joe Kelley Morning Show on 96.5 WDBO in Orlando. She and her family made the move from Michigan to the Orlando area to pursue their Disney dreams. Michele is a life long Disney fan, and has two sons who have followed suit, each going on their first Disney trip before their first birthday's. Part of the goal Michele has for The Main Street Mouse is not only to keep members informed, but to create somewhat of a Disney Family by relating to others through personal experiences and opinions. Also, Michele is making it a priority to share stories of inspiration and hope to other Disney Fans in an effort to share the Magic and hopefully make a difference in the lives of others.