Mechanical Kingdoms ~ Steam-Driven Visions of a Victorian Future Art to Debut at Disney Parks
From our friends over at the Disney Parks Blog:
Steampunk and Disney fans alike, this one's for you! On February 22, The Disney Gallery at Disneyland park will unveil a new exhibit titled Mechanical Kingdoms ~ Steam-Driven Visions of a Victorian Future.
Steampunk, a subgenre of science fiction loosely built around retro-futuristic visions of a steam-powered society, has been gaining (pardon the pun) steam over the past several years. The movement, which is expressed culturally and stylistically in everything from technology and design to music and fashion, was dubbed steampunk in the late 1980s. Though certainly not part of the steampunk "wave" (at least not consciously), Walt Disney Imagineers have been creating their own visions and versions of retro-futuristic technologies since well before that time, incorporating them into Disney Parks and attractions around the world.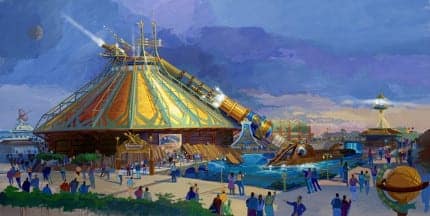 Mechanical Kingdoms ~ Steam-Driven Visions of a Victorian Future features conceptual designs and ideas for an array of inventive vehicles, machines and gadgets. The collection also shares some of the same inspirations as steampunk – most prominently a fascination with the extravagantly inventive visions of tomorrow expressed by such Victorian futurists as Jules Verne and H.G. Wells. So don your petticoats and bustles or your suits and old military storm coats, pull on your brass goggles and get ready for an adventure that takes us forward into the past, as seen through the eyes of Disney artists and designers.
Here's one piece that was actually done in collaboration with several of the artists, and for me, kind of tells the story of Steampunk and what you can expect to see.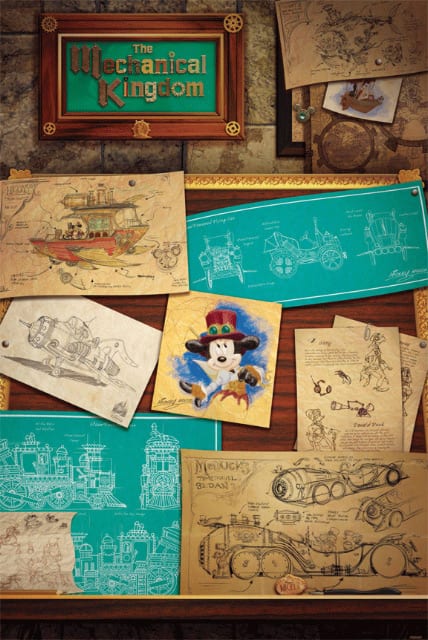 Of course, it was hard to pick one piece of art to show you, so I convinced the team to let me show you at least one piece from each artist. Take a look!












Co-Owner / Webmaster / Business Relations / PT Writer
As co-owner and co-creator of The Main Street Mouse. Working in a technical support position for 18 years, it was time for a change. As the Webmaster and Project Planner, I spend most of my time researching everything from the latest Disney News, technology advances and of course keeping up on all the Marvel news that comes out. I never considered myself a writer but I've come to like blogging and sharing news with all. I feel blessed everyday that I get to spend my days working with my best friend and love of my life while we continue to grow and expand what started as a hobby all those years ago.