The Sherman Brothers – Greatest Songwriters of All Time
When you think of the greatest song writing teams in music history, you probably think of Lennon-McCartney, Gilmour and Waters, Jagger and Richards, or the Gibbs. But there is a duo of brothers that I think beat all these writers. One of the most successful duo's of all time in my opinion are Richard and Robert Sherman.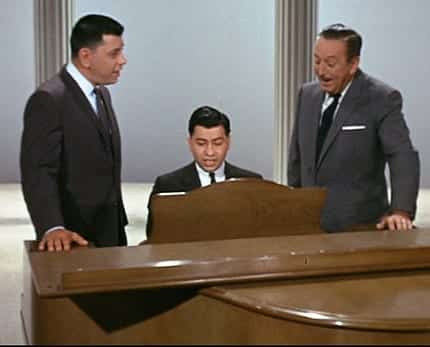 Both born in New York City, Robert (1925) and Richard (1928), to Al and Rosa Sherman. Their father Al was a Tin Pan Alley Songwriter himself. It was actually a challenge from this father in 1951 that got the brothers writing together.
In 1958, Robert founded the music publishing company Music World Corporation, which later enjoyed a landmark relationship with Disney's BMI-affiliated publishing arm, Wonderland Music Company. That same year, the Sherman Brothers had their first top-ten hit with "Tall Paul," sung by Mouseketeer Judy Harriet on the Surf Records label and then covered by Mouseketeer Annette Funicello. The success of this song yielded the attention of Walt Disney, who eventually hired the Sherman Brothers as Staff Songwriters for Walt Disney Studios. The first song they wrote on personal assignment by Walt Disney was "Strummin' Song" in 1961. It was used in the Annette Funicello made-for-television movie called The Horsemasters.
While at Disney, the Sherman Brothers wrote more motion-picture musical scores than any other songwriters in the history of film. They also wrote what is perhaps their best-known song, "it's a small world (after all)" for the 1964 New York World's Fair. Since then, some have claimed that this has become the most translated and performed song on Earth, although this is largely due to the fact that it is played continuously at Disney's theme park "it's a small world" attractions of the same name.
In 1965, the Sherman Brothers won two Academy Awards for Mary Poppins, which included the songs "Feed The Birds," "Supercalifragilisticexpialidocious," and the Oscar-winning "Chim Chim Cher-ee." Since Mary Poppins' premiere, the Shermans have subsequently earned nine Academy Award nominations, two Grammy Awards, four Grammy Award nominations, and 23 gold- and platinum-certified albums.
Robert and Richard Sherman worked directly for Walt Disney, completing the scores for the live-action musical films The Happiest Millionaire and The One and Only, Genuine, Original Family Band until Disney's death in 1966. After leaving the Disney company, the songwriters went on to write scores of motion pictures, television shows, theme-park exhibits, and stage musicals.
The brothers first non-Disney project came with the motion picture Chitty Chitty Bang Bang in 1968 which got them their third Academy Award Nomination for Best Original Song. The brothers would eventually come back to work for Disney on The Aristocats and Bedknobs and Broomsticks. The brothers continued to work for over the years on many projects.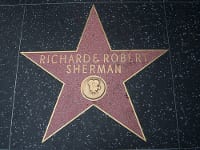 For their contributions to the motion picture industry, the Sherman brothers have a star on the Hollywood Walk of Fame at 6918 Hollywood Blvd. and were inducted into the Songwriters Hall of Fame on June 9, 2005.
On November 17, 2008 the Sherman Brothers received the National Medal of Arts which is the highest honor conferred upon artists or patrons of the arts by the United States Government. The award was presented by United States President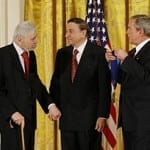 George W. Bush in an East Room ceremony at The White House.
On May 22, 2009, The Boys: the Sherman Brothers' Story, a critically acclaimed documentary film about the pair, was theatrically released. The film was directed and produced by their sons, Gregory V. Sherman and Jeff Sherman, and distributed by Walt Disney Pictures.
In October 2009, Disney released a 59 track, two CD compendium of their work for the studio spanning forty-two years. The CD is titled "The Sherman Brothers Songbook".
On March 11, 2010, the Sherman Brothers were presented with a Window on Mainstreet Disneyland in Anaheim, California, in honor of their contribution to Disney theme parks.
On May 17, 2010, the Sherman Brothers received the "Career Achievement Award" at The Theatre Museum's 2010 Awards Gala in New York City.
Sadly Robert B. Sherman died in London on March 6, 2012. He was aged 86. Richard is still active and recently worked on Saving Mr. Banks as a consultant. In Saving Mr. Banks, you get to see what the brothers went through to bring Mary Poppins to the big screen.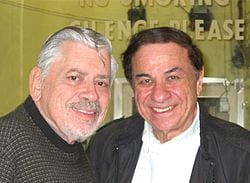 The Sherman Brothers are true legends, not only in Disney but in the world. Their music has touched every generation since they started in the business, and will continue to touch generations to come. Thank you to the Sherman Brothers for everything they have done. They were intergral parts of bringing Walt's dreams to life through their music.
Co-Owner / Webmaster / Business Relations / PT Writer
As co-owner and co-creator of The Main Street Mouse. Working in a technical support position for 18 years, it was time for a change. As the Webmaster and Project Planner, I spend most of my time researching everything from the latest Disney News, technology advances and of course keeping up on all the Marvel news that comes out. I never considered myself a writer but I've come to like blogging and sharing news with all. I feel blessed everyday that I get to spend my days working with my best friend and love of my life while we continue to grow and expand what started as a hobby all those years ago.