Starring Rolls Cafe ~ Red Velvet Cheesecake Cupcakes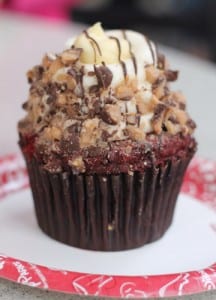 Valentine's Day is coming up in a couple of weeks, and being that us Disney Foodies like to bring some Disney goodies home, why not make the Red Velvet Cheesecake Cupcakes at Hollywood Studios!! They are fabulous, RED for the season, and remind us of our awesome Disney trips! Some members were talking about Disney Desserts, and a lot of you mentioned these cupcakes, so I thought I'd share the recipe!
Disney's Hollywood Studios ~ Starring Rolls Cafe
Red Velvet Cheesecake Cupcake Recipe
Ingredients – Cupcake
2 1/2 cups All-Purpose Flour
1 1/2 cups Sugar
2 tablespoons Cocoa Powder
1 pinch Salt
2 eggs
1/2 cup Oil
1 cup Butter Milk
2 ounces Red Food Coloring
1 teaspoon Vanilla Extract
Ingredients – Cheesecake Frosting
2 pounds cream cheese
1 1/2 cups sugar
1 tablespoon lemon juice
1/2 tablespoon vanilla extract
1/4 cup cornstarch
1 cup egg whites
Directions – Cupcake
Place all dry ingredients in bowl.
Blend eggs and oil and add to dry ingredients.
Mix until smooth. Add buttermilk.
Pour into lined muffin pan and bake at 350*F. for 30 min or so.
Directions – Frosting
°o° 1 pound cream cheese
°o° 3/4 cups sugar
°o° 1 1/2 teaspoons lemon juice
°o° 1 teaspoon vanilla extract
°o° 2 egg whites (or 1/2 cup)
Also needed for decoration ~
°o° 2 cans pre-made white frosting
°o° Toffee pieces
In a mixing bowel, add cream cheese, sugar, lemon juice, vanilla extract, and egg whites. Cream together for 3 minutes. Spread onto a shallow, flat-bottomed, lined baking pan or dish and bake for 45 minutes, or until firm. Allow to cool before frosting. Scrape into mixing bowl and cream slightly.
Using a piping bag or plastic sandwich bag with a corner cut, pipe cream cheese using a small circular motion in the center of the cupcake. In a separate piping or plastic bag, pipe pre-made white frosting around the edge of the cupcake, around the cheesecake filling. Roll in toffee bits.