Thursday's Random Acts of Kindness…. Prince Elliot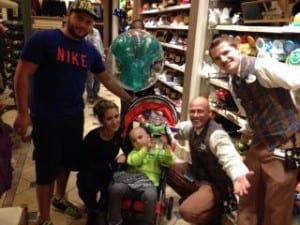 It's Thursday, time for a heart warming story! I love sharing these stories as a reminder to always try to do something nice for others, pay it forward if possible, and share the Disney Magic whenever you can! Today's story comes from my friend Michael who works at the Magic Kingdom. Michael got to meet a very special guest…… here's what he had to say:

Every once in awhile, someone crosses our PATH that reminds us of the meaning of LIFE. I noticed a little Prince, in his CARRIAGE looking down and a little sad. So I stopped the mom and asked, "what's the young Princes name?" She told me Elliott. So I got on one knee, saw a truly strong young boy needing some energy and asked Prince Elliott "Who's your favorite buddy?" He told me "MICKEY!" I said "oh my BOSS! Yes!" Then he went on to say that he wanted to get a Buzz Lightyear toy. So I responded "ah the GALACTIC HERO!" Well let me see what I can do, and stood up and asked Mom, what the situation was. She told me Elliott has an extremely rare disease, cancer of the auditory canal and there is no treatment or anything they can do. I asked mom to just hang on a minute and with a "green light" I pulled Buzz Lightyear down off the wall and out of the box. As I handed it to Prince Elliott, Buzz was holding a button that read "I'm celebrating BEING a Galactic Hero, Prince Elliott" and behind the button was PIXIE DUST. So I explained to Prince Elliott that I know Buzz, he is an awesome friend of mine, and I know he would want you to have this! Plus look behind the button, my other friend Tink would want you to have the Pixie Dust! So ALWAYS stay strong, NEVER give up, and keep FAITH as you are a GALACTIC HERO!
As Prince Elliott looked at the bottom of Buzz's shoe, he asked me "who's Andy?" I said, well Andy used to own Buzz, and just then I pulled out a marker and wrote on the bottom of the other shoe of Buzz, ELLIOTT. As I handed it back to him, I said now it's yours! So I asked for a VIP pass for Prince Elliott to get the RED CARPET for Buzz's Space Ranger Spin, and handed it to him. Before he left, I wrote on Prince Elliott's balloon ALWAYS keep the MAGIC in your HEART Prince Elliott and NEVER give up! While the little Prince smiled and kept talking to me, his demeanor just reversed holding Buzz, it made me realize just how PRECIOUS life is, and how MAGICAL someone can make an impact in your LIFE! ~Michael
This story is so touching, and really teaches an important lesson. No matter what we're going through, no matter how hard our days can be, there is always someone who might be struggling too and could use an extra bit of magic. I know personally, I have "down" days and sweat the small stuff, but truly I need to remember to be thankful for every day, even down days, because every day, good or bad, is a gift. I thank you Michael for letting me share your amazing stories, and we send love and prayers to little Prince Elliot and his family. Until next week, smile and share the Pixie Dust with others! ~M
Michele Atwood is the Owner/Editor of The Main Street Mouse and it's subsidiaries and author of the book "Moving to Main Street U.S.A." Michele also contributes Disney news to the Joe Kelley Morning Show on 96.5 WDBO in Orlando. She and her family made the move from Michigan to the Orlando area to pursue their Disney dreams. Michele is a life long Disney fan, and has two sons who have followed suit, each going on their first Disney trip before their first birthday's. Part of the goal Michele has for The Main Street Mouse is not only to keep members informed, but to create somewhat of a Disney Family by relating to others through personal experiences and opinions. Also, Michele is making it a priority to share stories of inspiration and hope to other Disney Fans in an effort to share the Magic and hopefully make a difference in the lives of others.