Michele's WDW Must-Do List, Part 2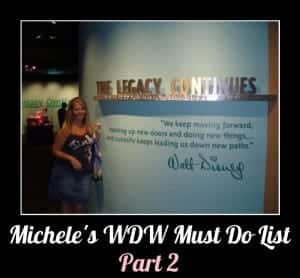 Last Monday, I did Part 1 of my own personal Must-Do list when visiting Walt Disney World. There is so much to cover as far as what I consider to be a must do when visiting my favorite Disney Parks, that I decided to break up my list into a few different parts. So, that being said, here is my next group of WDW Must-Do activities, in no particular order of course!
One Man's Dream, Hollywood Studios~
I have a confession…. I've only recently gotten into this attraction. I never wanted to go in before, I thought it would be like a field trip when I was a kid, too informational, not enough fun, etc. I was wrong. The history and memorabilia in One Man's Dream is a must see. I took my boys inside on our last trip and they loved it as well, and it was wonderful that they did. It gives you an appreciation for where all this Disney fun started, and it also really makes you wish Uncle Walt was still with us. Must do!
Twilight Zone Tower of Terror~
Like I said in Part 1 of this series, I really don't do haunted attractions, I just don't like them. The Haunted Mansion is an exception to the rule, and I have to say that the Tower of Terror is as well. It's not really scary per say, but more like a lot of scary-good fun. I love the atmosphere in the hotel lobby, the creepy elevator attendants, and inside the ride itself is a great time. The drops in the elevator kind of sneak up on you, so watch out! Such a great time though, we never miss it.
Mickey Mouse Premium Ice Cream Bars~
If you get the Disney Dining Plan, and even if you don't, one of your snack choices is the ice cream bars at the different stands throughout the parks. My favorite out of these choices is the Mickey's Premium Bar. There's just something about the Mickey shaped chocolate covered ice cream…. it's so good. The only down side to these yummy treats is that I'm usually thirsty after eating one, so then I have to blow another snack credit for something to drink, but it's worth it!
Mousegear store at Epcot~
I'm a shopper at heart, it's a favorite past time of mine. Shopping at Disney is fun in general, but one of my favorite stores on Disney Property would have to be Mousegear at Epcot. Mousegear has souvenirs that are Epcot themed that you can't find at other parks, and they also have items themed for the different countries in World Showcase. In addition to Epcot swag, they have basically everything you could want in a souvenir store….. clothing, kitchen stuff, scrapbooks and photo albums, candy, pet supplies, and decorations for your car. It's a one stop shop, and it's awesome!
Earl of Sandwich, Downtown Disney~
One of my favorite walk up meals at WDW is Earl of Sandwich, DTD. This place has the best sandwiches, great bread, and fantastic baked goods to choose from. I always grab a brownie or some sort of baked treat on our way out to take back to the room for later, it's really, really good.
Pirates of the Caribbean, MK~
Not only is Pirates of the Caribbean a classic attraction, it's got great current updates inside to include the Pirates of the Caribbean movies, with Captain Jack Sparrow. The whole attraction is wonderful, from the area where you stand in line, to the gift shop at the end, it's something that my family and I never miss. If you time it right, you can catch Captain Jack's show outside the ride, and possibly get picked to join his crew! My son got chosen the last two times we went, and it was just the icing on the cake for the whole experience!
Well, this concludes Part 2 of my Must-Do list! Stay tuned for Part 3 coming next week. Feel free to add your own faves to the list, it's always great to read what others feel is a Must-Do while at Disney!