Songs to Make You Long For Disney Parks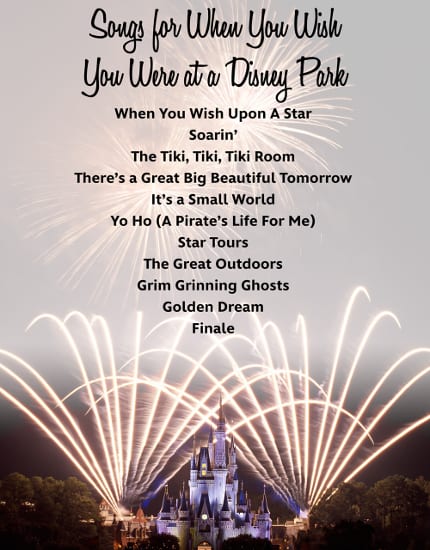 Everyone has songs that take them to a certain place in their memory.  For most Disney fans you can hear anyone of a number of songs and you can envision yourself in the park, in the last place you heard that song played.  Maybe its when you go for a pirate ride or when you get inside your doom buggy to visit the ghosts.  Either way its amazing that a song can bring up all those memories instantly.  Disney put together a playlist of songs that bring you right into the parks.  If you are like me, you can here the song and visualize the attraction or maybe where you last stood on Main Street as you watched Wishes.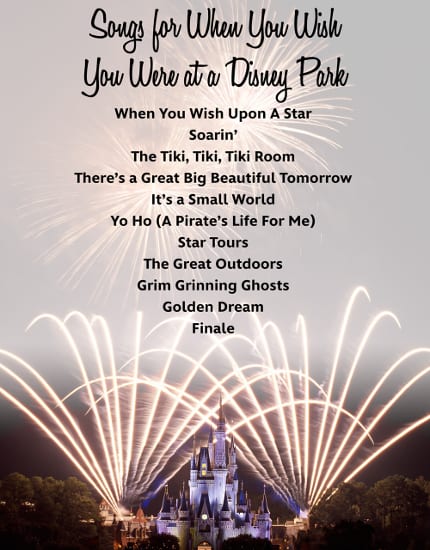 This is a great list to close your eyes to and listen and imagine you are in the magical place we all love to escape to.  Now Disney, of course took the list a step further and created it as a playlist for their fans to enjoy.  If you go HERE, you will be routed to www.spotify.com and you can listen to the list.  You will need to register with the site to here the songs.  It only takes a minute to register, but well worth it.  Enjoy!!
Co-Owner / Webmaster / Business Relations / PT Writer
As co-owner and co-creator of The Main Street Mouse. Working in a technical support position for 18 years, it was time for a change. As the Webmaster and Project Planner, I spend most of my time researching everything from the latest Disney News, technology advances and of course keeping up on all the Marvel news that comes out. I never considered myself a writer but I've come to like blogging and sharing news with all. I feel blessed everyday that I get to spend my days working with my best friend and love of my life while we continue to grow and expand what started as a hobby all those years ago.