Funko to Release New Marvel Products in 2014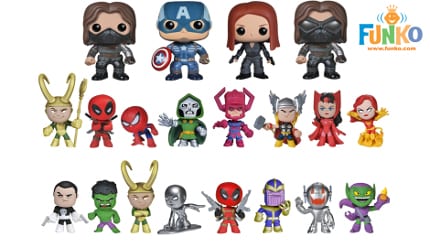 Funko is set to launch several new lines under the Marvel license including a series of Pop! Marvel Vinyl Figures for Marvel's upcoming release of "Captain America: The Winter Soldier," and a Marvel series of blind-box Mystery Minis.
Funko has seen a rapid expansion in the past few years for its popular lines of vinyl figures and other collectibles. A wider distribution network and more product lines are fueling the growth, President Brian Mariotti says. "We think that our industry is design driven," says Mariotti. Artists at Funko come up with products "uniquely styled in the Funko way"
New Marvel Products from Funko:
-Captain America: The Winter Soldier Pop! Marvel Vinyl Figures – Funko's Pop! Marvel: Captain America: The Winter Soldier line will include 3.75" stylized vinyl figures of the following characters: Captain America, Black Widow, Winter Solider Masked, and Winter Soldier Unmasked. (Ages 5+)
-Marvel Mystery Minis – Funko's line of Mystery Minis is expanding to include a Marvel series. The series will include 16 new blind-box Marvel figures in the form of 2.5" bobble- heads. Each character will have a unique rarity factor, making some pieces more limited than others. (Ages 5+)
Funko products are available nationwide at Barnes & Noble Booksellers, Toys R Us, Hot Topic, Target, Walmart, 7-Eleven, specialty toy retailers, and online at www.amazon.com.
As a collector of Vinylmations, I first saw the funko action figures in the stores and loved how they looked.  I have purchased many over my years of collecting.  They have a great line of Marvel, Star Wars and Disney figures already.