On The Next Episode of Marvel Agents of S.H.I.E.L.D.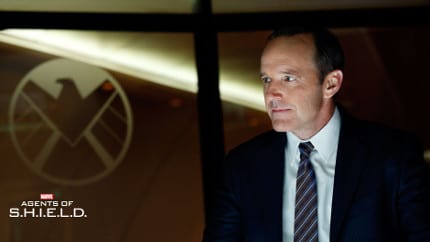 On the next episode of Marvel's Agents of S.H.I.E.L.D., the hunt for the Clairvoyant heats up.  Also, the next episode will feature the villainous Ian Quinn and the special guest cameo by the creator of all things Marvel STAN LEE.
The next episode titled, "T.R.A.C.K.S.:" has the team hunting for the mysterious Clairvoyant.  Coulson and the rest of the team board a mystery train that seems headed for certain death.  
In case you missed last nights episode of S.H.I.E.L.D., Agents Coulson and May head to Mexico City to find out more about Skye's origin.  The reason they headed to Mexico was a picture turned up on a long missing S.H.I.E.L.D. agent name Richard Lumley.  Lumley's partner was the agent who turned Skye over to foster care.  Agent Lumley has been in hiding for more than 20 years.  One of his last assignments, Lumley and a small team of agents traveled to a small village to track down a 0-8-4, an object of unknown origin.  The entire village and many of the agents were slaughtered.  The only survivor of the village was the blood covered 0-8-4, which turns out to be Skye.
Lumley and his partner vowed to keep the baby safe,  and issued an order to keep her moving from foster family to foster family to foster family, all in an effort to keep her off the grid. The plan worked, obviously, as Skye's still alive and well.  Sadly, Lumley's partner, and other S.H.I.E.L.D. agents, suffered gruesome deaths to preserve the secret. Lumley himself entered into hiding to avoid a similar fate till Agent May confronted him in an ally.  
If you missed this episode you can go to http://abc.go.com/shows/marvels-agents-of-shield/episode-guide and see episode 112 Seeds or any episode from this season. 
Co-Owner / Webmaster / Business Relations / PT Writer
As co-owner and co-creator of The Main Street Mouse. Working in a technical support position for 18 years, it was time for a change. As the Webmaster and Project Planner, I spend most of my time researching everything from the latest Disney News, technology advances and of course keeping up on all the Marvel news that comes out. I never considered myself a writer but I've come to like blogging and sharing news with all. I feel blessed everyday that I get to spend my days working with my best friend and love of my life while we continue to grow and expand what started as a hobby all those years ago.