New Year Resolution
Well now that we are 6 days into 2014, how many people have kept their resolution?  I'm sure there are large amount of people who have made resolutions with the greatest of intentions, but already broken them.  Maybe you are one of those people who didn't make any because you just know your won't be able to keep it.  Or maybe, just maybe you are one of the people who have kept your resolution and you are rolling forward with it.  If you are one of those people good for you.
Whichever category you fit in, I have the resolution for you to try.  First off, it's never too late for a change.  Just because it's the 6th of January doesn't mean you can't make a resolution.   There is no rule that you can't start a resolution any day of the year.  Plus, there is a lot more pressure to stick to your resolution if you tie it to the "New Year".
I think I found one that will work for Disney fans.  One of the big resolutions everyone makes is to workout more.  That's a great resolution, no doubt about that but I have one that all Disney fans should give a try.  I found this on the Oh My Disney blog and wanted to share it.  Now according to Disney, follow these simple steps at least three times a week, and you'll be in the best Disney shape of your life!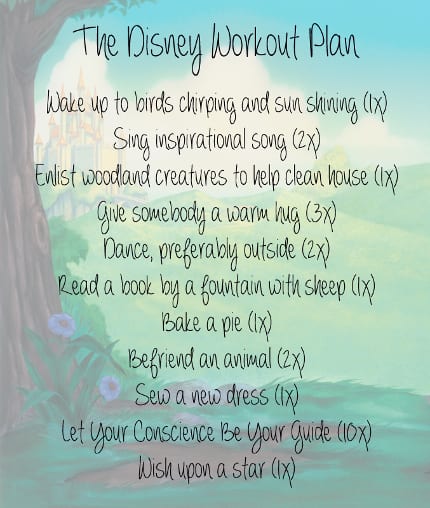 Co-Owner / Webmaster / Business Relations / PT Writer
As co-owner and co-creator of The Main Street Mouse. Working in a technical support position for 18 years, it was time for a change. As the Webmaster and Project Planner, I spend most of my time researching everything from the latest Disney News, technology advances and of course keeping up on all the Marvel news that comes out. I never considered myself a writer but I've come to like blogging and sharing news with all. I feel blessed everyday that I get to spend my days working with my best friend and love of my life while we continue to grow and expand what started as a hobby all those years ago.