Our first Random Acts of Kindness story for 2014!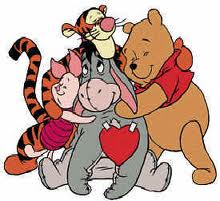 Towards the end of last year, we began doing our Random Acts of Kindness articles every Thursday. The main focus for me is to share stories that make us realize what's truly important in life, and also to put a spotlight on those who make a difference in other people's lives. On New Year's Eve, I was shown a story by a former Disneyland Cast Member, and I thought it was a perfect fit to start off our New Year for our Thursday articles. I'd like to thank Steven Breaux (who was an Attractions Host at Disneyland) for allowing me to share his experience with others! Here's Steven's story……
"I was working at Storybook one day and a young father asked me if his daughter could be my "Expert Whale Watcher" and sit on the top of the boat with me. I allowed the child to sit beside me with my arm carefully placed around her waist so she wouldn't fall and discovered her name was Amber and she was blind. Amber became part of my spiel and an instant favorite guest. When the tour came to an end and we passed by Prince Eric's Castle and Atlantica, Amber exclaimed she saw Ariel swim by and is waving at her. I cleared the boat for the next group and as I did, Amber hugged me and whispered in my ear, "Thank You Steve! I saw Ariel! I really did!" This brought tears to my eyes. The very next day I was working at Monorail and it was my turn to drive the train ( Disneyland Monorail is a lot shorter than WDW!) Wouldnt you know it, the family waiting to ride in the nose cone was no other than Amber and her family! The family appeared happy to see me and asked if I would play along that Amber was driving the train. Once protocol was followed and proper radio calls were made, I let my young guest honk the horn and away we went. After the ride was over , the family and I posed for a picture. I called Guest Relations at City Hall and had an 8×10 of Mickey mouse waiting for Amber when the family made their way to the exit later that day.
Approximately 1 month later, I received a letter and a copy of the photo from the family stating that I touched their hearts along with the heart of Amber as well. I didn't know at the time , I was making such an impact on the young girl and her family. I was doing my job. I was doing a job that Mr. Disney himself would have been proud of. I learned from that letter that Amber had passed away shortly after those two encounters. Her dying wish was to see The Little Mermaid once more and "drive" the Disneyland Monorail. I was moved to tears that day and have always gone the extra mile for people knowing in my heart we all struggle in our lives and you just never know when somebody is benefiting from genuine kindness and generosity."
Steven went on to say….
"As a former Cast Member, I "value the Magic" in everyday life and utilize the very same tools I used in my role as an Attractions Host as I do in current role of LVN.( LPN in 48 other states) I feel as if my role in the Disneyland show prepared me to be something better than when I was 24. As I go back and re-read the story I shared here, I am further reminded of Amber and the impact of her visit not only on me, but also on her and her family. I failed to mention that Amber's father mentioned to me very discreetly she was blind and was diagnosed with a life threatening illness that would take her young life. Amber was given 2 months to live. Imagine if you will, at the end of my encounter with the family a 6 foot 4 man dropping to his knees backstage sobbing inconsolably simply because of one special guest.
I must admit that spieling the same spiel 90+ times a day was draining and working my other areas was a welcome break,but I will always remember the burst of energy I felt when Amber sat beside me. This young woman came to life and was so immersed in my spiel. I didn't want the ride to end. The best memory I can share was how excited Amber became when we came upon Ariel and Prince Eric's areas of the attraction. I myself am a huge Beauty and the Beast fan so I can relate to Amber's excitement for Ariel. I was happy to be able to accommodate the family the next day at Monorail. This was all fate as nothing was calculated or planned. It just happened to be my train to drive and a fellow Cast Member invited the family to sit with the driver. If you have ever been on a Disney Monorail, you hear a recorded spiel welcoming guests aboard. At a certain point there is a break and you hear , "The engineer would like to say a few words". I qued Amber and she announced to a train full of guests, " Hi! My name is Amber and I am driving this bus. Steve is my co-captain." Nobody on board had any idea how special this moment was for Amber or myself.
I don't recall the date this encounter happened, yet I feel it was the forces of fate and destiny colliding as I made a difference in the overall impression of a guest and her family. I know in my heart that Mr. Disney personally sent this guest my way as he knew I would do the right thing. The lesson to be learned for new and some existing Cast Members is to value each guest interaction. you never know how much of an impact you are making just by performing your role in the show." ~Steven Breaux
We are honored that Steven chose to share his experience with us. Too many times in the news we hear of people who don't do right by others, and we don't hear enough of those who do. Hopefully, by sharing stories like these, we can remind our Members that there are still good people in this world, and acts of kindness don't always go unnoticed. If you have an experience with a Disney Cast Member, or are a Cast Member yourself and would like to share a story with TMSM for an upcoming Thursday article, please let us know. The more kindness we can spread, the better. Thanks so much for reading, and Happy New Year to you all. ~M
Michele Atwood is the Owner/Editor of The Main Street Mouse and it's subsidiaries and author of the book "Moving to Main Street U.S.A." Michele also contributes Disney news to the Joe Kelley Morning Show on 96.5 WDBO in Orlando. She and her family made the move from Michigan to the Orlando area to pursue their Disney dreams. Michele is a life long Disney fan, and has two sons who have followed suit, each going on their first Disney trip before their first birthday's. Part of the goal Michele has for The Main Street Mouse is not only to keep members informed, but to create somewhat of a Disney Family by relating to others through personal experiences and opinions. Also, Michele is making it a priority to share stories of inspiration and hope to other Disney Fans in an effort to share the Magic and hopefully make a difference in the lives of others.