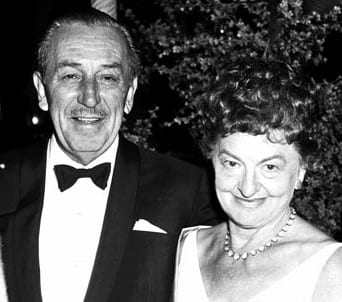 Walt Disney and P.L. Travers at the premier for Mary Poppins
With Saving Mr. Banks hitting theaters this coming Friday, I thought I would write a little more about the author of Mary Poppins, P.L. Travers.

Helen Lyndon Goff, went by Lyndon to family, was born August 9, 1899 in Maryborough, Australia.  She was born to Travers Robert Goff and Margaret Agnes née Morehead. Her mother was the niece of Boyd Dunlop Morehead, who was the Premier of Queensland (Head of Government in Queensland) from 1888 – 1890.   Her father's job took the family to Allora in 1905, but sadly just 2 years later her father at the age of 43,  passed away from influenza.  After her father's passing, her mother and sisters moved to Bowral, New South Wales in 1907 and stayed there till 1917.  Lyndon would go to a all girls school in Ashfield, Sydney during World War I.
Lyndon would start publishing her poems as a teenager and also wrote for The Bulletin and Triad.  At this time, she was also gaining a reputation as an actress.  Lyndon would soon take the stage name "Pamela Lyndon Travers" and as an actress she toured Australia and New Zealand with a Shakespearean tour company.  She would move to England in 1924. While in England, she started to write under the pen name, P.L. Travers.
In 1933, while living with her friend, Madge Burnand in Sussex, she began to write Mary Poppins.  Mary Poppins would go on to be Travers first literary success.  She would continue to write sequels to Mary Poppins, the last in 1988, along with other novels, poetry and works of non-ficition.  P.L. Travers greatly admired author, J.M. Barrie who wrote Peter Pan in 1911.  Also, her first publisher was Peter Llewelyn Davies, who was the adopted son of J.M. Barrie and also the model for Peter Pan.
Pamela had developed an interest in world mythology and studied the Gurdjeff System.   In March 1936, she was able to meet the mystic George Guardjieff, who would have a great effect on her.   Through her life she would study mythology and folklore, even spending two summers living among the Navajo, Hopi and Pueblo people.  In the 1960's she would travel to Japan to study Zen mysticism.
During World War II, while living in Manhattan working for the British Ministry of Information, is when Roy Disney first contacted her about selling the Mary Poppins character to the Disney studio for film use. Travers was an adviser to the production, but didn't like many aspects of how the story was told and ruled out any further adaptations of later Mary Poppins novels.  She also felt she was treated poorly at the hands of Disney.
At the premier for the film, Travers who had not been invited, asked Disney for permission to attend.  It's rumored that at the premier, she approached Walt and told him the animation sequence needed to go. Walt's response was "Pamela, the ship has sailed" and walked away from her. She was not easy to work with, from all that was said and written about her.
When she was in her 90's, she was approached about the stage musical of the books.  She accepted but with the condition that only English-born writers and no one from the film production field were to be directly involved with the creative process of the stage musical. This specifically excluded the Sherman Brothers from writing additional songs for the production, even though they were still very prolific. However, original songs and other aspects from the 1964 film were allowed to be incorporated into the production. She went so far as to make these stipulations in her last will and testament.
P.L. Travers never married, but at the age of 40 had adopted a baby boy, Camillus.  Her son had a twin brother whom she did not adopt or any of his siblings at the advice of her astrologer.  In 1977, she received the honor of becoming an Officer of the British Empire.     In 1996, Travers health began to fail and she passed away at the age of 96 in London.