No Match For A Good Blaster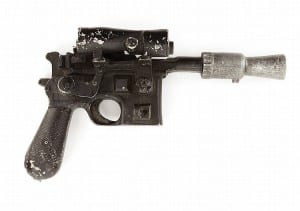 Are you a Star Wars super fan?  How would you like to get your hands on Han Solo's DL-44 Blaster?  The prop that was used in Star Wars: Episode V – The Empire Strikes Back and Star Wars: Episode VI – Return of the Jedi is up for auction at Invaluable Online Auction House.  This particular blaster didn't actually fire, but there was a heavier model used for the scenes where Han was shooting.  Sadly, the blaster that fired is believed to be lost.
Invaluable said that the blaster has been inspected by a well-respected Star Wars expert, who vouches for its authenticity.  The starting bid for the blaster is $200,000 and bidding runs through Dec. 21, 2013.  It says that the value is estimated somewhere between $200,000 – $300,000.
Star Wars memorabilia has always been a favorite for the auction block.  Last year, a Snowtrooper helmet used in Empire sold for $276,750 ($225,000 plus $51,750 as buyer's premium and taxes). The year before that, a camera George Lucas used during the filming of Star Wars: Episode IV – A New Hope sold for a record $625,000.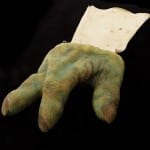 Invaluable has other various Star Wars items up for auctions as well.  From unopened figures, story board cards, to Yoda's puppet hand used in Episode I – The Phantom Menace.
As a life long Star Wars fan, this of course got me to thinking, what piece of memorabilia would I love to have from the Star Wars Universe.  I'm a big fan of Darth Vader, I would love to have his Light Saber from Episode V – The Empire Strikes Back. But I'm sure that would be the obvious want of any fan, to have one of the sabers from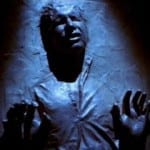 the films.   So I started to think of other scenes in the movie and what would be a really cool piece.  Han Solo frozen in carbonite would be awesome to have.   Now I know there are many replicas of this out there, from mini refrigerators to desks.  An artist friend of mine, who has worked for Lucas and the Star Wars Universe for many years,  has a full scale replica of this in his office.  I think it would be great to have one of the original props from Episode V – The Empire Strikes Back.
I remember reading a forum post years ago about this particular prop.  The post spoke about a store named Starabilias, which was located in Downtown Disneyland.  The post stated they had one of the original props hanging from the ceiling and it sold for $25,000 and that was 10+ years ago.  I can't even imagine what it would be worth today.
So what's on your Star Wars Memorabilia wish list?