Random Acts of Kindness ~ Thanksgiving Edition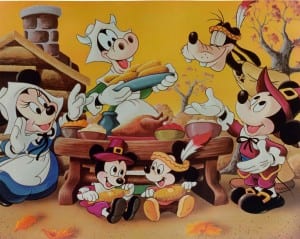 Well, Thanksgiving Day is finally here! We've been sharing the "turkey day" magic and counting down to today, the day to be Thankful for our Blessings and to spend time with those that we love. I had said previously that I was going to dedicate Thursdays to our new "Random Acts of Kindness" theme, and even though it's a holiday, I felt the need was still there. Maybe more so.
Everyday, people struggle with all sorts of things. Whether it be health issues, financial problems, employment issues, family hardships, etc, I believe we all could use a little more love and kindness in our daily lives. That's why I wanted to start TMSM. I wanted this to be a place that I could share some Disney Magic and Happiness, to people everywhere no matter where you are, or what your situation is. Today, being Thanksgiving, I have to say I'm thankful for you, the fans of TMSM, for allowing me to bring you the love of Disney each day. I can't tell you how grateful I am for your friendship and support. We truly have become more of a Disney Family, and that means the world to me. Thank you for that.
Today's Random Act of Kindness comes from my dear Cast Member friend, Michael. Michael and I became friends out of our mutual wish to bring happiness to other people's lives. I do my part from home, Michael does his part at the Magic Kingdom. Here's another touching story that I wanted to share:
"While I was back in my area of the Christmas room at The Emporium, I overheard my name being called by Marisela Martinez. As I walked over, there was a Princess just breaking down excessively. I asked what's wrong? She said "I just lost my brother. He just passed on." I explained there are no words I can give you now to comfort you, however I can offer you this. When my dearest John Signorello passed on, at 45 years old I had a moment of collapse. Then I stood back up, looked at his picture and said "I'm gonna do ALL I can for you John, I'm gonna carry your LEGACY on!" So, I told her, "you're here now Princess," as I asked her her name. She told me Janis. So I said Janis, come take a walk with me. We walked to GUEST RELATIONS. As I saw a dear friend of mine in City Hall, I said "see that woman over there in the blue sweatshirt? She just lost her brother at 60 ears old. Let's get her VIP seating for the parade and fireworks." So we got it done! I gave her a Princes Janis button and asked her to wear it, as I have reason behind it. I then gave her my Sorcerer Mickey 2013 pin I just traded to remember this night. As she hugged me crying, Princess Janis told me come watch the parade with her. As I started tearing up, I said I just cannot leave Main St, as your going to Liberty Square as a VIP! However, I'll make sure you know I'm there with you. She looked at me and said I'm awesome, I said no, what's going to happen while your watching the parade will be awesome! So just as THE ELECTRICAL PARADE got ready to step off on Main Street, I saw Gus and Perla, and they are going to pay Princess Janis a little visit during their parade!" ~Michael Signorello, WDW Cast Member
It's stories like the ones that Michael shares with me, that make me want to do more and more to bring happiness to others. It's amazing. TMSM is a place where you are welcome, and you are our extended Disney Family no matter who you are, where you come from, or what's going on in your life. You are family. I truly appreciate each of you, and my Cast Member friends who help me bring stories of kindness, joy, and hope to each of our Fans. Thanks so much TMSM`ers, wishing you and yours a Happy, Safe, and Blessed Thanksgiving! ~Michele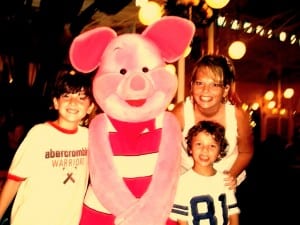 Happy Thanksgiving from my family to yours!! ~M
Michele Atwood is the Owner/Editor of The Main Street Mouse and it's subsidiaries and author of the book "Moving to Main Street U.S.A." Michele also contributes Disney news to the Joe Kelley Morning Show on 96.5 WDBO in Orlando. She and her family made the move from Michigan to the Orlando area to pursue their Disney dreams. Michele is a life long Disney fan, and has two sons who have followed suit, each going on their first Disney trip before their first birthday's. Part of the goal Michele has for The Main Street Mouse is not only to keep members informed, but to create somewhat of a Disney Family by relating to others through personal experiences and opinions. Also, Michele is making it a priority to share stories of inspiration and hope to other Disney Fans in an effort to share the Magic and hopefully make a difference in the lives of others.