"Maleficent" Trailer is Released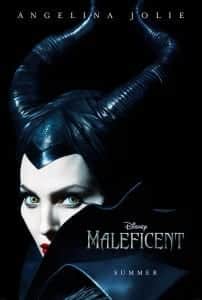 Yesterday we brought you the full theatrical poster for the upcoming film "Maleficent".  Today, Walt Disney Studio's released the official trailer for the upcoming film.

The film stars Angelina Jolie as Maleficent. The film also features Elle Fanning as Princess Aurora. When we announced yesterday that the Poster was released, someone on facebook made the comment wondering if her kids be in the film. Well one of them is! In the trailer, there is a little girl running at the beginning. The little girl is the young Princess Aurora and played by Angelina Jolie's daughter, Vivienne.
This film tells the story that the 1959 animated classic "Sleeping Beauty" didn't. We learn the back story of Maleficent and how she came to be one of the biggest Disney villains of all time. The story is told from her view.
I have to admit that originally I wasn't that excited about this film, but after seeing the trailer I'm more interested now. The effects in the trailer, where the thorn branches are growing, looks very well done. When I watch a movie I look for the effects and how things are done, they can either make or break a movie no matter the storyline. To me this one looks like it's going to be a hit for the Walt Disney Studios.
"Maleficent" will make its debut on July 2, 2014.
Co-Owner / Webmaster / Business Relations / PT Writer
As co-owner and co-creator of The Main Street Mouse. Working in a technical support position for 18 years, it was time for a change. As the Webmaster and Project Planner, I spend most of my time researching everything from the latest Disney News, technology advances and of course keeping up on all the Marvel news that comes out. I never considered myself a writer but I've come to like blogging and sharing news with all. I feel blessed everyday that I get to spend my days working with my best friend and love of my life while we continue to grow and expand what started as a hobby all those years ago.