Thor: The Dark World Hammers the Box Office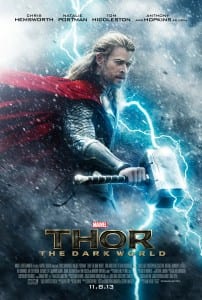 "Thor: The Dark World" debuted this past weekend and had a great weekend.  Is it as great as the Avengers, which had a weekend box office of $207 million?  No, it wasn't that good but it was $86.11 million for the weekend.  For being 1/6th  of The Avengers from 2011 that's a pretty good piece of the weekend box office take.  In 2011, "Thor" earned $65.7 million its opening weekend, so this is a nice bump of $20 million.

The Marvel Cinematic Universe has really done well so far, and doesn't seem to be letting up anytime soon.  They have released 8 films already and there are many more yet to come.  The films all share a timeline, cast and characters.  The eight films so far are:
Iron Man (2008)
The Incredible Hulk (2008)
Iron Man 2 (2010)
Thor (2011)
Captain America: The First Avenger (2011)
The Avengers (2012)
Iron Man 3 (2013)
Thor: The Dark World (2013)
Now when some of these films were made, Disney was not involved yet.  When Disney purchased Marvel on August 31, 2009 for $4 billion they took a gamble that has paid off.  They stated at the time, the deal didn't effect any current deals in place with other studios or others in the works with Marvel.  Since the deal took place in 2009, Disney has purchased the distribution rights to "Iron Man", "Iron Man 2", "Thor", and "Captain America: The First Avenger" from Paramount studios.  They have also bought the rights or the studio didn't renew them before expiring, to other Marvel characters such as Blade from New Line Cinema, Daredevil from 20th Century Fox, Ghost Rider from Sony, Punisher from Lions Gate and many others.
The biggest character that isn't currently owned by Disney/Marvel fully is Spider-Man.  Upon the release of the latest installment in that series there was a deal that Disney would received the full merchandising ancillary rights to the future Spider-Man films in exchange for Sony purchasing out Marvel's film participation rights.  As you have probably heard though, most money from films is made in the "Merchandising".  That is how Lucas made the bigger fortune from Star Wars franchise.
I'm sure eventually Disney will acquire the rights to all the Marvel characters one way or another.  The X-Men franchise is a huge moneymaker and would be a great asset to Disney.  Plus being able to add Wolverine to the Avengers franchise and having a villain like Magneto to battle alongside Loki might make for a interesting movie.
Disney has big plans coming to add to the Marvel Cinematic Universe.  In 2014, "Captain America: The Winter Soldier" is due out in April and then "Guardians of the Galaxy" in August.  In 2015, "Avengers: Age of Ultron" will be out in May and "Ant-Man" in November.  There is so many possibilities for the future.  There is a rumor of another Hulk movie coming after 2015 and we found out that Robert Downey Jr. will play Iron Man in The Avengers 3, so that is in the works as well.  All the Marvel fans are certainly in for a few great years at the movies.
Hopefully the box office stays big for all the Marvel films so that the franchise doesn't go away anytime soon.  Marvel Comics has been around since 1939 (started at Timely Comics) so there are thousands of characters and stories to be told and more created all the time.
Co-Owner / Webmaster / Business Relations / PT Writer
As co-owner and co-creator of The Main Street Mouse. Working in a technical support position for 18 years, it was time for a change. As the Webmaster and Project Planner, I spend most of my time researching everything from the latest Disney News, technology advances and of course keeping up on all the Marvel news that comes out. I never considered myself a writer but I've come to like blogging and sharing news with all. I feel blessed everyday that I get to spend my days working with my best friend and love of my life while we continue to grow and expand what started as a hobby all those years ago.