Construction traffic near Downtown Disney this weekend!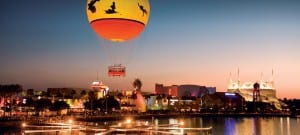 As you may have known, we've been trying to keep you in the loop in regards to the construction issues around Downtown Disney at Disney World. One of our Cast Member friends sent us the latest lowdown regarding the traffic in the DTD area for the upcoming Festival of the Masters Weekend, plus extra flow from Epcot's Wine and Dine Half Marathon. Here's what we know:
"Downtown Disney is going to be crazier this weekend than usual. Festival of the Masters is this weekend. Not only that, but it's also the weekend for Epcot's Wine and Dine half marathon. If you are going to be in the area plan in advance, allow for delayed traffic, and bring your patience, sunscreen and water. An allegedly "dedicated to bus traffic only" lane will be set up again from Marketplace to the entrance of Pleasure Island Friday to Sunday afternoon. Entrance three of DTD is already closed. I'd advise you not to come at all but put things off for a weekend, however there will be some beautiful artwork on display all over DTD as well as some really cool interactive activity stations. Saturday night, the 9th, Osceola Blvd will be closed from 8:00 p.m. to 2:00 a.m. Sunday morning. If you don't have to travel on this road then DON'T!" ~Disney CM Camille.
As always, we appreciate the input we receive from our fans and our Cast Member TMSM`ers! Thank You!! ~M