Long Awaited Honor for Tony Baxter
In 1965, at the age of 17, Tony Baxter became a ice cream scooper at Disneyland on Main Street, U.S.A.  Who would have guessed 48 years later, he would be receiving the greatest honor a Disney Imagineer can receive.  On November 1, 2013, in a ceremony in front of the Main Street Magic Shop, Tony was honored with his Window on Main Street.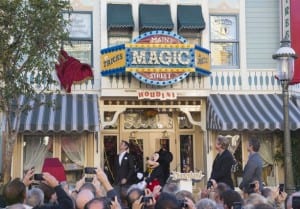 The ceremony was hosted by Walt Disney Parks and Resorts Chairman Tom Staggs, Walt Disney Imagineering Chief Creative Executive Bruce Vaughn and Disneyland Resort President Michael Colglazier.  Some other Disney Elite on hand for the event were, Richard Sherman, Marty Skylar, Bob Gurr , Dave Smith, and Disneyland's first President Jack Lindquist.
"Receiving a window on Main Street is an honor reserved for those who have made an indelible mark on Walt Disney Parks and Resorts," said Staggs. "It's a subtle, yet significant in-park tribute to the people who have lent their talents, passion and creativity to making our parks and resorts a place where dreams become reality. Tony has taken us on some incredible journeys over the years and has amassed a remarkable legacy – one now marked with a tangible recognition of all his efforts."
His window states:
Main Street Marvels
Tony Baxter, Inventor
"Imagination is in the Heart of our Creations"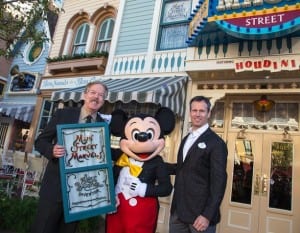 The quote in the window is a reference to the song "One Little Spark", the song was written by Disney Legends The Sherman Brothers for the Journey Into Imagination Pavilion at Epcot.  The project was spearheaded by Tony for the park's original lineup of attractions in 1982.
Tony was involved in many positions and projects over the years, including Big Thunder Mountain Railroad, Journey Into the Imagination,  Re-Design of Disneyland's Fantasyland, The Disney Gallery, Star Tours, Splash Mountain, Disneyland Paris, Indiana Jones Adventure, and many many others.
For years, every time I have watched a show in regards to Disney, Tony Baxter has always been a part of the episode.  Over the years I've gained such great respect for Mr. Baxter and appreciation for his imagination.  To know that at the age of 8 years old, he wanted to be a part of Disneyland and would achieve his goal at 17.  He really saw his calling from such an early age.
The story behind how Tony went to work for WED is a good one and shows that imagination is power.  Tony having already toured Disney Imagineering once before, was going to school at Cal Poly Pomona.  His senior project, he created a design for a Mary Poppins ride. His design was then shown to WED Enterprises, impressed they invited him back for a 2nd tour.  During the tour they explained to him what the position would entail.  After the tour he left that day with a new career path and transferred school.
Another story I heard not too long ago was Tony's recount of December 15, 1966.   In the show Disneyland: Secrets, Stories, & Magic, Tony talked about someone calling him at home and then rushing out to Disneyland to get there just as the flag on Main Street was being lowered.  He said all the employee were in a state of disbelief.  Someone said Walt would have wanted the park to stay open and they struggled with that.
On February 1, 2013 Tony announced his departure from his position as senior vice president of creative development in Walt Disney Imagineering and was responsible for creating designs and carrying out the construction of attractions all over the world.   Tony would stay on as an adviser.
As I stated earlier, when a 17 year old started scooping ice cream for Disneyland, there was no way he could imagine the impact he would have on the Disney theme parks.  Tony Baxter is an Disney Imagineer.  His impact is something that generation after generation will come to love and enjoy.  Because of his contributions, he truly deserved the honor bestowed upon him with his window.  The Main Street Mouse congratulates Tony on his accomplishments and thanks him for everything he has done and will do for  the Disney fans.
Co-Owner / Webmaster / Business Relations / PT Writer
As co-owner and co-creator of The Main Street Mouse.Working in a technical support position for 18 years, it was time for a change.As the Webmaster and Project Planner, I spend most of my time researching everything from the latest Disney News, technology advances and of course keeping up on all the Marvel news that comes out.I never considered myself a writer but I've come to like blogging and sharing news with all.I feel blessed everyday that I get to spend my days working with my best friend and love of my life while we continue to grow and expand what started as a hobby all those years ago.
Latest posts by TMSM Avenger (see all)