The Spooky Story of the Tower of Terror….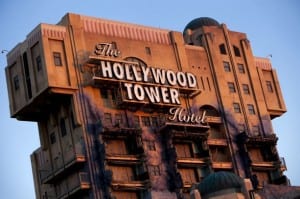 It's Halloween Eve…. the final countdown to Halloween is finally here! We have been sharing spooky articles and tidbits all month long, to celebrate the Halloween season, and we're not done just yet. Our friends at the Disney Parks Blog shared this little tale of the Twilight Zone Tower of Terror in Anaheim. The same back story applies to the Tower of Terror in Orlando as well, but this one has some points geared toward the Disneyland Resort. Enjoy!
Step back in time, to 1939 and a stormy Halloween Eve. A fateful bolt of lightning strikes the Hollywood Tower Hotel. An elevator plunges to the basement and its five passengers vanish. Guests hastily flee the hotel, leaving an "Out of Order" elevator with bent and damaged doors and a creepy library where the old-fashioned television suddenly comes alive — with the voice and image of "The Twilight Zone" host Rod Serling.
Today, the mysterious building remains locked in time in Disney California Adventure park. Crossing over into the The Twilight Zone Tower of Terror, you're invited to ride the hotel's remaining service elevators and experience your own terrifying plunge.
If you're bold enough to flirt with the fifth dimension, it's a thrilling drop from the 13th floor in a high-speed, 21-passenger elevator. Before you step foot in the Twilight Zone Tower of Terror, you may want to know more about its eerie details:
The ominous Hollywood Tower Hotel stands 183 feet tall, the tallest building in Anaheim.
The landscaping is designed to reflect what was typical of an upscale hotel in 1930s Southern California. Chinese flame trees, magnolias, and various palms accent the building. Look for the dead palm fronds, intentionally left on the trees for that "unkempt-by-design" look.
Music heard in the area includes popular tunes from the 1930s, such as "I Can't Get Started With You" by Bunny Berigan, "We'll Meet Again" by Vera Lynn, and "Mood Indigo" by Duke Ellington, all chosen for their timeless, haunting quality.
Artifacts fill the hotel lobby, all items "left behind" by guests who suddenly disappeared on that frightful Halloween in 1939. Scattered on tables and chairs are a pair of dusty wine glasses, a book, an unfinished postcard, a child's doll and more.
Many of the props in the hotel are replicas that recall specific episodes of "The Twilight Zone" television series. The series originally ran on CBS, from 1959 to 1964. Rod Serling, its creator and host, wrote 92 of the original 156 episodes.