Limited Time Magic Announcement!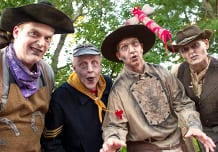 We have another Limited Time Magic announcement straight out of Disney World today! Here's the lowdown on the latest promotion;
Kick up your boots for Halloween week at Magic Kingdom park where you can find all sorts of spirited fun in Frontierland! From 11:00 AM to 3:00 PM, head to the Diamond Horseshoe Saloon—re-dressed in the guise of "The Happy Haunted Horseshoe"—and grab a snack or a Halloween-inspired goodie as an ethereal group of entertainers takes a break from pushing up daisies to delight you with their tricks and treats. This is your chance to join hostess Miss Betty Blue as she calls forth haunting harmonies from the Cadaver Dans, the piano-playing Dearly Departed Stan and everyone's favorite morbid magician, Abner Cadaver. So be on the lookout—miss this offering from Limited Time Magic and you may never rest in peace!
For Disneyland…..
Sway to the "Tombs" of the Cadaver Dans
October 28 to November 3, 2013
Dig up a frighteningly fun time during Halloween week at Disneyland Park where as part of Limited Time Magic, you can uncover the most popular barbershop quartet from beyond the grave—the Cadaver Dans! This fearsome foursome is taking a break from pushing up daisies to harmonize on a ghoulish medley of familiar "tombs." Come tap your toes—and maybe your pulse too—as the Cadaver Dans entertain grim, grinning ghosts and Guests alike, outside of the Haunted Mansion in New Orleans Square. But catch a sighting while you can—they're only appearing in daylight for a limited time, before they return from whence they came!