Random Acts of Kindness ~ Disney Cast Member Version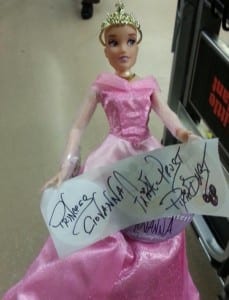 The other day, I had written about how much Disney Cast Members make a difference in the experiences of many Disney Guests. So many people travel to Disney Parks on a dream and a wish, some people need the magic even more so than others. October is one month out of the year where people try to raise awareness regarding cancer. To me, I think cancer is something that needs to be talked about all year long. Cancer tears so many families down, and sadly, it effects more children than I can even say. It's so sad. If there is something people can do to help raise the spirits of a child who's been stricken with cancer, then by all means, it should be done. Disney Cast Members keep this philosophy in mind, and it's something that we can all learn from. Random acts of kindness are few and far between these days, and maybe if we get reminders on how effective we can be to others who need it, the more good can come of it.
One of these acts of kindness I'd like to mention is from Magic Kingdom Cast Member, Michael Signorello, and his fellow Cast Member Brooke Martin. What they did for one special little girl is inspiring, here is their story according to Michael.
"While I was in the Halloween room, Cast Member Brooke Martin came over and asked for my help. Brooke had a young Princess from Brazil ask her if Disney had any dolls for children with cancer. The girl had a loved one named Giovanna back at home who was battling cancer. When Brooke asked me, we looked at each other and said "let's grab a doll and pull ALL her hair out!" So together we found the girl from Brazil and asked who her special Princess Friend's favorite Princess is? She did not know as this little angel is back in Brazil. So I said let's use Princess Aurora, as she has a PINK dress, and Tiara. Brooke created the most MAGIC by obtaining Princess Aurora on our BOSS "No STRINGS attached!" We then took Princess Aurora in the back and gave her a makeover. While Brooke, Courtney and I pulled ALL the HAIR out of Aurora, I placed a button on the Princesses dress saying "Princess Giovanna" and on the back of the button I wrote May all your DREAMS come True. I tied PIXIE DUST to the Princess's hand, and strung stickers that read, Princess Giovanna, Faith, Trust, Pixie Dust. We then placed her in a box, with a pillow and sheet as she is the SLEEPING BEAUTY. As Brooke brought this out to the young lady who is bringing this gift back to Brazil to Princess Giovanna, the lady had tears in her eyes, and hugged Brooke with ALL her might. She was truly AMAZED, and INSPIRED! She could not thank us enough, and I said I KNOW Princess Giovanna is going to beat this, and just have her hold onto the Pixie Dust. I looked at Brooke, and smiled as we made the VERY FIRST CANCER PRINCESS!"
So by taking the time to create a special Princess doll for a certain someone who needs it, they were able to make magic happen that easily. All it takes is a little heartfelt thought to make someone else feel loved and special. We can learn from stories like this. Disney brings magic to millions of people around the world, some people need that magic more than others. Even though we don't always have the means to bring that magic, little things we do can mean so much to someone else. I wish there was more that I personally could do to bring more magic to those who need it, but every effort counts and makes a difference. Stories like this also make me count my blessings, they are good reminders of how lucky we do have it in the grand scheme of things. So, thank you Michael and Brooke, Courtney too, for sharing the magic, and reminding us that it only take a few minutes to make someone else feel the Disney love!
Michele Atwood is the Owner/Editor of The Main Street Mouse and it's subsidiaries and author of the book "Moving to Main Street U.S.A." Michele also contributes Disney news to the Joe Kelley Morning Show on 96.5 WDBO in Orlando. She and her family made the move from Michigan to the Orlando area to pursue their Disney dreams. Michele is a life long Disney fan, and has two sons who have followed suit, each going on their first Disney trip before their first birthday's. Part of the goal Michele has for The Main Street Mouse is not only to keep members informed, but to create somewhat of a Disney Family by relating to others through personal experiences and opinions. Also, Michele is making it a priority to share stories of inspiration and hope to other Disney Fans in an effort to share the Magic and hopefully make a difference in the lives of others.