Disney On Ice "100 Years of Magic"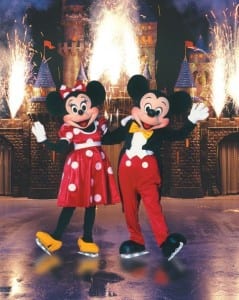 Last night, my family and I were treated to a little bit of Disney Magic, a bit closer to home.  We were graciously given tickets to see "Disney On Ice, 100 Years of Magic" at the Palace of Auburn Hills.  It's been quite some time since we have been able to make it to Walt Disney World, so this was exciting for us to be able to get somewhat of a long overdue Disney Fix.  As soon as we arrived, the Magic of Disney was in the air.  I have been to the Palace for many events, I know how the venue usually looks.  This time was different.  Disney had their own souvenir booths scattered throughout the hallways, Disney photo opportunities so people could take a picture with Mickey or Cinderella, and Disney Music piping through their sound system.  They even brought their own popcorn!  Another sure sign of Disney Fanatics gathering around was the site of kids both young and old dressed in their favorite Disney costumes, just like at the Parks.  It's a great site to see!
Once we got settled in and found our rink side seats, we were able to check out the scenery a bit.  The backdrop for the show was a lovely version of a Castle, of course.  The show started promptly on time, and Mickey and Minnie were the first to come out and welcome everyone to Disney On Ice.  It's exciting for people to get a glimpse of Mickey and Minnie, just like we see them when we visit Disney World.  Donald Duck and Goofy were also in attendance, which just added more to the magic.  I know my own children were excited, their faces lit up, ok, I was excited too, I admit.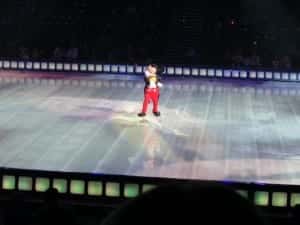 The theme for this Disney show was "100 Years of Magic."  Magic is exactly what Disney is all about, and what they bring to people all over the world every day. Coincidentally, yesterday was also the 90th anniversary of the Walt Disney Company, which only made the experience more special.  The show itself brought the audience on a journey through Disney story telling history.  The classics were featured, like Pinocchio, as well as more recent stories, like Finding Nemo.  This installment of Disney on Ice had a little something for everyone.  Being the Mother of two boys, I was a little concerned that it would entail too much of a Princess theme, but it really wasn't like that.  Sure, they had a section that featured the Disney Princesses, but it was just part of a whole Disney journey that they were taking the audience on.  Again, there was something for everyone, both boys and girls, as well as young and old.  Then again, everyone becomes a kids again when it comes to Disney, that's the way Walt wanted it.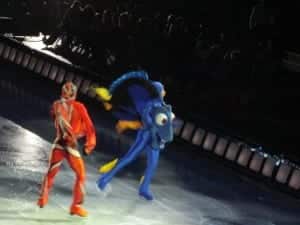 For me and my family, one of the absolute best parts of the show, was the scene where they brought the classic ride "It's a Small World" to the forefront .  My family, like so many families these days, just can't afford to take our children to the Disney Parks, and we miss that.  Last night, it was like part of Disney Parks came to us instead.  The backdrop looked like something straight from the It's A Small World attraction itself.  The theme song played, and the skaters were dressed as Small World characters from all over the world.  It was truly amazing to see.  It's not often that we have the opportunity to be transported to the Happiest Place on Earth in an instant, but this installment of Disney On Ice does just that.  Again, it's that good old Disney Magic at work.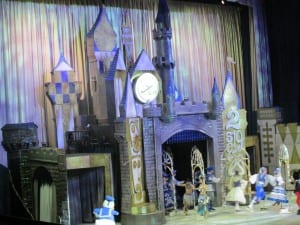 Speaking of Disney Magic… There were a few times last night that I found myself with tears rolling down my face.  Not out of sadness of course, but just from the Magic that Disney brings, no matter where you see it.  I'm not sure what it is about these timeless Disney stories, but they make your heart swell.  Maybe it's the music, maybe it's the nostalgia, or maybe it's seeing the look of wonder on the faces of my children.  It's probably all of the above.  Seeing Jiminy Cricket come out and sing "When You Wish Upon A Star" just took me right back to the feeling of being on Main Street USA, waiting for "Wishes" to start, standing outside the Emporium.  The tears built up, but they're happy tears.  If that's not magic, I don't know what is.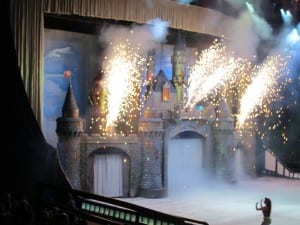 Overall, "100 Years of Magic" was a very well done production.  From beginning to end, the performers captured the audience, and held our attention throughout.  The costumes were beautiful, the scenery was outstanding, and the music was all encompassing of Disney Magic.  Being at Disney on Ice is like a mini vacation, just a small retreat to our Happy Place and a break from reality. I look forward to being able to take my children back to Disney World someday, like a lot of other families, but in the meantime, Disney on Ice is a great way to get your Disney fix, and rather quickly.  If you get the opportunity to see a Disney on Ice show, I highly recommend that you go.  Everyone needs some magic in their lives, and Disney on Ice is a great way to do so.  Thanks again to Feld Entertainment for allowing us to come and be part of the magic!
Michele Atwood is the Owner/Editor of The Main Street Mouse and it's subsidiaries and author of the book "Moving to Main Street U.S.A." Michele also contributes Disney news to the Joe Kelley Morning Show on 96.5 WDBO in Orlando. She and her family made the move from Michigan to the Orlando area to pursue their Disney dreams. Michele is a life long Disney fan, and has two sons who have followed suit, each going on their first Disney trip before their first birthday's. Part of the goal Michele has for The Main Street Mouse is not only to keep members informed, but to create somewhat of a Disney Family by relating to others through personal experiences and opinions. Also, Michele is making it a priority to share stories of inspiration and hope to other Disney Fans in an effort to share the Magic and hopefully make a difference in the lives of others.