The Iron Man Experience is coming to where?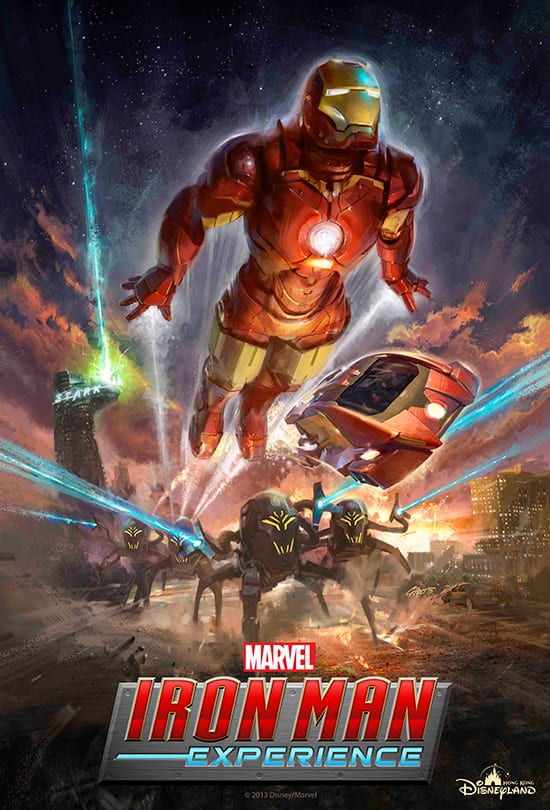 Today Disney announced that finally there will be a Marvel based attraction in the park.  The new attraction, Iron Man Expericence will debut in late 2016 at Hong Kong Disneyland.
Its no secret that fans, new and old, around the world have been captivated by Tony Stark and Disney is basing this experience within a piece of the Stark Expo. Located in Tomorrowland at Hong Kong Disneyland, the Expo will allow guests to see firsthand the progression of Tony's Iron Man suits and many other Stark innovations.
Once guests enter the ride vehicle they will be able to take flight with Iron Man on one of his adventures against the forces of evil.  A highlight of the attraction is that it take places in the streets and skies of Hong Kong.  Upon exiting the ride there will be a meet and greet with Iron Man.
I was a little saddened to read this is going to Hong Kong.  I understand totally that Disney has to promote all the parks.  They have to get unique attractions in each area otherwise why would anyone go to another park.  I guess now I really need to plan that vacation to Hong Kong.
It seems this year they have started to promote the Marvel characters for more than just the movies.  With Captain America being at D23, the Marvel Avengers Academy coming to the Magic cruise ship, and Thor: Treasures of Asgard coming to Disneyland next month the Avengers are becoming a bigger and larger part of Disney.  In the last few years, the Marvel franchise has been a gold mine at the box office for Disney.  Its obvious Disney realizes this, so putting them in the parks will only increase that.  We already know that next month Thor 2 is coming, in 2014 we get to see Captain America 2 and then Guardians of the Galaxy.  In 2015 Avengers: Age of Ultron comes out.  I've also heard they are planning a Hulk movie after the next Avengers film and we know there are plans for more Iron Man movies.  Marvels Agents of S.H.I.E.L.D. is helping on the small screen.  When Disney gets behind something and the fans want more, they won't disappoint us.  I can only wonder what all they have in store with the Star Wars franchise.
Co-Owner / Webmaster / Business Relations / PT Writer
As co-owner and co-creator of The Main Street Mouse. Working in a technical support position for 18 years, it was time for a change. As the Webmaster and Project Planner, I spend most of my time researching everything from the latest Disney News, technology advances and of course keeping up on all the Marvel news that comes out. I never considered myself a writer but I've come to like blogging and sharing news with all. I feel blessed everyday that I get to spend my days working with my best friend and love of my life while we continue to grow and expand what started as a hobby all those years ago.