Cruella de Vil, look out puppies!!!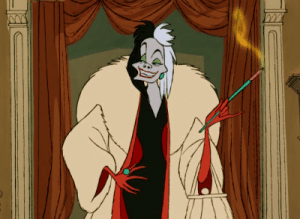 Cruella de Vil is coming in a new live-action movie.  Confirmation has come that Brosh McKenna (The Devil Wears Prada) is writing the film and Andrew Gunn (Freaky Friday) has signed on to produce the film.  Rumors are already wondering who will play the evil one.  Will Glenn Close reprise her role from the 1996 film?  Another rumor out there is Meryl Streep possibly playing the role.  No news yet on who exactly but as we find out more we will pass the information along to you.
Cruella de Vil is ranked 39th on AFI's list "100 Years…100 Heroes and Villains".  That is a pretty good ranking, beneath Cruella is Freddy Krueger.  I never would have thought of her worse then Freddy.  Ironically the 39th Hero is one of the most famous dogs of all time, Lassie.  Other Disney Villains that are on the list include The Queen (#10) from Snow White, Man (#20) from Bambi, and a relatively new member of the Disney family Darth Vader (#3) from Empire Strikes Back.
Co-Owner / Webmaster / Business Relations / PT Writer
As co-owner and co-creator of The Main Street Mouse. Working in a technical support position for 18 years, it was time for a change. As the Webmaster and Project Planner, I spend most of my time researching everything from the latest Disney News, technology advances and of course keeping up on all the Marvel news that comes out. I never considered myself a writer but I've come to like blogging and sharing news with all. I feel blessed everyday that I get to spend my days working with my best friend and love of my life while we continue to grow and expand what started as a hobby all those years ago.