Opportunities to meet Disney Legend, Marty Sklar!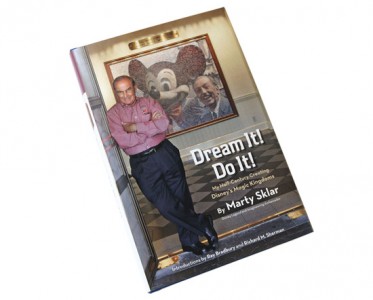 Fans of Disney Legend Marty Sklar will have the opportunity to meet him when he makes appearances promoting his new book,  Dream It! Do It!: My Half-Century Creating Disney's Magic Kingdoms in September.  The book by Disney Publishing debuted earlier this month at the D23 Expo.  Here's a quote regarding the book, courtesy of Disney Parks Blog!
"The book, in many respects, is a look back at the people I worked with and the passion they had for the product," explained Marty. "I also wanted to correct some of the myths about Walt Disney, because there are so many, and having worked with him I knew so many weren't true. I also wanted to take advantage of being the only person involved with the openings of all 11 Disney parks around world. I thought I had a responsibility to tell that story."
People who are fans of Disney History will find this to be a fascinating read!  Mr. Sklar will be making appearances for a book signing event at both Disneyland and Walt Disney World.
At Disneyland Resort, Marty will be meeting with fans at the newly relocated Disneyana location on Main Street, U.S.A., in Disneyland park on August 23 from 9 a.m. to 11 a.m.
Guests in Florida will have two different opportunities to meet Marty at the Walt Disney World Resort. He will be at The Writer's Stop in Disney's Hollywood Studios on September 11 from 9:30 a.m. to 11:00 a.m. Fans can also meet him on September 12 from 11:00 a.m. to 12:30 p.m. in the Art of Disney at the Downtown Disney Marketplace.