Hey, that's great! But…. it's still "No Disney"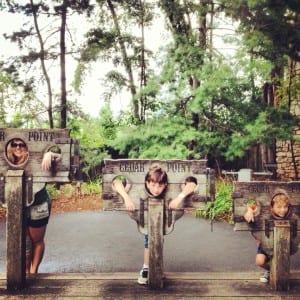 Everyone who knows me, heck, probably even people who don't, know that I'm really in need of a vacation.  Specifically a Disney vacation, but that's not as easily attained.  Being that Disney World is 18 hours and a few thousand dollars away, I thought of an alternative plan for the short term.   Since we have season passes, we decided to take the kids to Cedar Point in Ohio for 3 days.  It's "no Disney" but it's close to home, and when you need a vacation, you do what you've got to do!   Sometimes you just need a break, or at least a change in scenery.  CP has great scenery, surrounded by Lake Erie, with a lovely breeze coming off the water….  I love that part.
So, being that we were excited to go anywhere, we looked to our little trip with great enthusiasm.  We've gone to CP lots of times, but not in the past two summers because we went to WDW.  We really enjoy it there, they have a huge amount of thrill rides and coasters, it's a totally different set up than Disney is.  The last time we had been to CP, the boys weren't tall enough to ride most of the bigger coasters, but this time that wasn't the case.  My older son was plenty big, and the little guy JUST made it, maybe by half an inch!  We rode their newest "flying" coaster that opened this year, the "Gatekeeper."  Pretty cool.  Roller coasters these days are so much different than the classic coasters I grew up on.  These days, it's all about air pressure, magnets, hydrolics, etc….. not wooden fixtures with chains that pull you up a hill.  The newer rides are smooth, it's amazing!  The boys loved it, I loved it, but even with that, I still heard "it's no Disney" though.  Some "magic" was missing.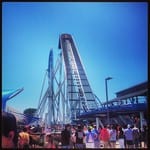 Cedar Point is a coaster enthusiasts dream, it really is.  Snoopy and the Peanuts gang are their themed characters, but there's no character dining like Disney.  Actually, there really aren't any restaurants, even walk ups that compare to Disney.  The food is extremely expensive too, ridiculously so.  Nope, it's no Disney!  Granted, the food at amusement parks is always expensive, you can't avoid it, but there should be limits.  My gosh, between parking, admission, food, extra games and entertainment, how can people afford to keep going on theme park vacations?  It's not easy, times are tough.  I think if people are going to put a lot of money out for a vacation, they really want to feel that they are getting their money's worth.  I know I do.  If you only have so much to spend, you have some hard choices to make, it's got to be narrowed down.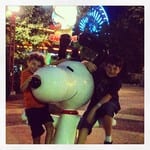 Again, I must give props to the rides at CP, they're pretty awesome.  However, the wait time is awful.  My boys were asking about "FastPass" and if they had it.  No, there wasn't, and if the sign said it was a two hour wait, then that was pretty accurate.  Two hours, for a two minute ride.  That's rough…. again, the words "it's no Disney" were spoken.  The second day of our trip, we ran into another issue.  We got to the extremely crowded park, and it seemed like people were just walking around aimlessly, no direction at all.  We quickly figured out why.  5 of the major coasters were down…. all at once.  How can this be?  I understand maintenance, or instances where something happens, but all of them at the same time?  It was crazy.  Imagine going to the Magic Kingdom, and finding out that all 3 Mountains, the Haunted Mansion, and Buzz Lightyear were all broken or down, with no estimated time on when they'd be back.  It wouldn't happen, but that's how Disney rolls.  I seriously couldn't believe that all the newer coasters were down.  A lot of people were unhappy and really had nothing to do.  Most were riding the train that loops the back half of the park, just to have something to occupy some time.  Us included.  Once some of the rides came back up, the wait times were outrageous.  We rode one ride that day.  Yes, one.  We were a bit disappointed.
Day three had come.  We weren't spending the night again, but we had to make up for some lost time, being that we didn't get to ride anything the day before.  The skies were blue, and the park was packed.  Long wait times.  For an extra fee, in addition to your entry price, you can pay for what would be like a fastpass, and get into a shorter line.  It's expensive.  I looked into it, and the "short line" that you'd pay almost an extra hundred bucks for had a wait time of 45 minutes.  That's not short.  Again….. it's no Disney.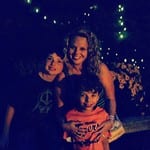 But all in all, we do like CP, it's fun, but it's different.  I guess it's about what you're looking for, what kind of adventure you want to go on, and how you want to spend your time.  Being that I have grown up in the North, going to CP is something that most people do each year around here.  It's like a right of passage, and after a long and cold Winter, people look forward to CP's opening day in May.  It's a tradition.  So what's the problem?  I'm not sure.  I think Disney has me and my family spoiled.  We are used to certain things, certain foods, certain service…. and when we go elsewhere, we notice the difference.  As much fun as we had on our mini vacation, we still found ourselves comparing CP to WDW.  There are good points to both.  Once you get hooked on going to Disney Parks, it's hard NOT to compare.  I know I'm not the only one who's been spoiled by Disney, partly because I saw a ton of people wearing WDW t-shirts at CP over those three days.  Maybe theme park fans just flock together, some people would rather be on a vacation where they can have a busy, fun filled day.  I think you can have days like that at Cedar Point, it's a good time…. but for spoiled Disney people like me….. well, you know what I'd say!  ~M