Despicable numbers for The Lone Ranger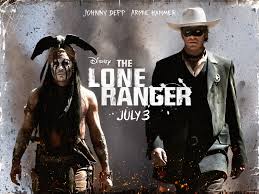 The box office numbers are in for the 4th of July weekend, and Disney didn't come in first place, not even close!
1. Despicable Me 2, $82.5 million; $142.1 million, first five days
2. The Lone Ranger, $29.4 million; $48.9 million, first five days
3. The Heat, $25 million; $86.4 million, second week
4. Monsters University, $19.6 million; $216.1 million, third week
5. World War Z, $18.2 million; $158.8 million, third week
"Despicable Me 2" had a huge weekend, beating all other movies by millions, including "The Lone Ranger."  Critics slammed The Lone Ranger, but if you read fan reviews, most people really enjoyed the film.  I know for me, I don't always agree with critic reviews, and from what I've read, a lot of Disney fans felt this way about The Lone Ranger.  So, what the heck happened?  I have a couple of possible reasons for this.
First, Despicable Me 2 has been highly pushed (see Happy Meal toys) and kids have been waiting with great anticipation for the film.  The first Despicable Me did good at the box office, but no where near what part 2 did this past weekend.  Should Disney have gone up against this movie for the holiday weekend?  Probably not.  Yes, Johnny Depp has a huge following, and he delivered as usual for The Lone Ranger.  He's good at what he does.  However… he battled for the "kids" audience, and that's a consideration.  Most kids would rather see a cartoon with familiar characters, rather than a western that they may not have heard of before.  My own children, being huge Disney fans, wanted to see DM2 over TLR.  I wasn't surprised either.  While they love Disney, they loved Johnny Depp in the Pirates movies, and did want to see TLR, the draw for DM2 was bigger to them.  So, maybe it was timing?
Second, the "Monstrous Summer" campaign.  Disney had put a LOT of money and time into promoting their other early Summer film, "Monsters University."  Actually, they devoted the entire summer this year to the lovable Monsters, Mike and Sulley.  Monsters U did had high numbers at the box office.  With all the advertising and promotion, I expected it to do exceptionally well, and it did.  Even with the kiddies going to see DM2, Monsters U still held in at number 4 this weekend.  So, that being said, did Disney put "too much" into Monsters U, and not enough into The Lone Ranger?  Maybe.  I saw much more promotional items for Monsters U, it was everywhere.  I think I've seen Monsters merchandise in more stores this time, over the first Monsters film, "Monsters Inc."  They have been on everything from fruit snacks to cleaning products!  I haven't seen much for TLR.  Even in the Parks, merchandise for TLR was only recently put out, unlike Monsters souvenirs which have been out much, much longer.  Disney maybe should have put a little more effort into promotion for TLR, but hindsight is 20/20.
Lastly, critic reviews.  Critics get paid to watch a film, break it down, and give us their opinion.  I think critics look at films differently than the average movie-goer.  Like I mentioned it earlier, critics didn't like The Lone Ranger, but the average score from fans was graded at a "B."  A "B" isn't bad if you ask me, but what do I know?  The reports are that Disney is going to take an overall loss for TLR.  I hate to see that happen.  I hope Disney fans decide to make another trip to theaters, since most have already seen DM2, and give The Lone Ranger a try.  Fans say TLR was "fun" and "a great adventure."  Who couldn't use a little fun, or to go on an adventure?  Plus, you get to see the magic that is Johnny Depp to boot!  Doesn't sound too bad to me!