"Monsters University" Roars at the Box Office!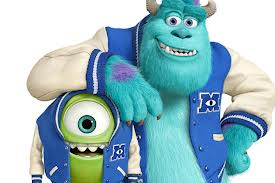 As predicted, Monsters University was at the top of the box office this weekend.   All the promotions Disney has been putting out toward the film must have really payed off, along with help from fans of Monsters Inc.  People have been excited to see another movie featuring Mike and Sulley for a very long time!  Monsters University debuted in first place with $82 million, beating out swarming zombies in "World War Z" and Superman himself in "Man of Steel."
If you're like me, and you have a special place in your heart for Monsters Inc., then you just may have a little more room in there for Monsters University.   Being that Monsters University was a throwback to a time before Mike and Sulley worked at Monsters Inc, seeing the characters gave you that warm, familiar feeling again.  Same faces, but completely different environment.  Monsters University gave viewers a back story as to how Mike and Sulley met, and how they became involved in working for Monsters Inc.  We got to see some characters from the previous movie return, and also got to meet some great new characters as well. ("Squshies" Mom made my kids just burst with laughter, she was great).  Mike and Sulley are in college at Monsters University, and meet up with some new friends, as they try to meet their goals and make their "scaring" dreams become a reality.
Like with all Disney films, your emotions will run up and down.  Disney knows how to make you feel so many different feelings, in one movie going experience.  There were times I laughed, well, a lot of times, times of feeling a little sad, sentimental moments, etc.  Typical, yet Magical.  I don't want to give away any spoilers for those who have yet to make it to the theater, but if you haven't gone, you may want to.   I was a little hesitant to see Monsters University, just because of how much I loved Monsters Inc.  I thought maybe my expectations wouldn't be met, or that I would compare the two films and not give M.U. a fair shot.  The experience was much different than that.  The two films are so different, yet really good in their own right.  Again, familiar, yet different.  My family and I left the theater with smiles on our faces, the kids were happy, and I was happy that we went.
As with other Disney/Pixar collaborations, we also got to see a short film before the actual movie started.  "The Blue Umbrella" was the Pixar short that was shown, and although it got mixed reviews, I thought it had a sweet sentiment.  The visual effects were really good too.  In usual fashion as well, be sure to stay through the credits of the film, to see what special little extra surprise Disney has at the very end of the showing.  Only us and one other family sat through the forever-long credits in hopes of getting an extra tidbit of "Monsters."  They "got it" too!
All in all, I'd rate Monsters University with two thumbs up. If you're looking for a good time at the movies, and need a little escape from reality courtesy of Disney/Pixar, then take the family to the show.  Go in without expectations or comparisons, and enjoy Monsters University for what it is.  Monsters Inc. still beats it on my list, but Mike and Sulley were a welcomed sight, and a fun afternoon was had by all.
Michele Atwood is the Owner/Editor of The Main Street Mouse and it's subsidiaries and author of the book "Moving to Main Street U.S.A." Michele also contributes Disney news to the Joe Kelley Morning Show on 96.5 WDBO in Orlando. She and her family made the move from Michigan to the Orlando area to pursue their Disney dreams. Michele is a life long Disney fan, and has two sons who have followed suit, each going on their first Disney trip before their first birthday's. Part of the goal Michele has for The Main Street Mouse is not only to keep members informed, but to create somewhat of a Disney Family by relating to others through personal experiences and opinions. Also, Michele is making it a priority to share stories of inspiration and hope to other Disney Fans in an effort to share the Magic and hopefully make a difference in the lives of others.