Answers to last weeks Urban Legends and Myths.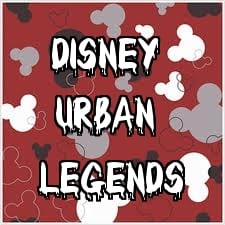 So last week I asked 10 questions regarding if they were "myths", "urban legends" or whatever you may want to call them.  I for one enjoy reading about them even though a lot of them are bogus because I find them rather entertaining. So in a continuation of last week's questions I will answer the myths that I listed.
MYTH #1= Yell "Andy's Coming" when you see Woody and Jessie in the parks and see what happens.
At one time this one was true. When "Andy's Coming" was yelled, Woody and Jessie would fall to the ground and lie still like they did in the movies.  It has now been stopped.
MYTH #2=If a castmember at a Turkey Leg booth chooses you to "gobble like a turkey" and you do, guess what?
This one I'm not to sure about. Some say it is true, some say it isn't. I've also seen that it was for a "Celebration" or it's only during the Thanksgiving holiday. If you know for sure let us know.
MYTH#3=One of the singing bust in The Haunted Mansion is that of Walt Disney himself.
This one is also false. The one most people think is Walt is actually Thurl Ravenscroft, who was a voice actor and voiced Tony the Tiger and voices in Pirates of the Caribbean, Haunted Mansion, Country Bear Jamboree and the Enchanted Tiki Room.
MYTH#4=The plane used in The Great Movie Ride in Hollywood Studios is the actual plane used in the movie Casablanca.
This one is also false. The plane used in the movie was a model of a Lockheed Electra 12A.  The one in the ride is an actual plane.
MYTH#5=A man was decapitated on Space Mountain.
Absolutely false, but it's one Urban Legend that never dies.  No human has ever been decapitated but unfortunately a test dummy was.
MYTH#6=The black areas on the Swan and Dolphin hotels can be removed to accommodate a monorail track if it was ever seemed fit.
Another one that is false.  The black area is just a design feature by Michael Graves to make the façade more interesting.
MYTH#7=There is a monorail right of way clause in the forms when you buy into the Saratoga Springs Resort.
This one is true.  When people buy into the Vacation Club they sign a "Product Understanding Checklist". Section 18 states:
"This resort is located near stores, restaurants, entertainment areas, and other public establishments with nighttime hours of operation which may result in higher noise and light levels, including but not limited to fireworks and music. In addition, easement rights for the purpose of constructing, maintaining and supporting the Monorail transportation services (which also may result in higher noise and light levels and views of the Monorail system) as part of the larger Walt Disney World transportation system (which may or may not service the Resort) have been reserved. There are no current plans to expand the Monorail system."
MYTH#8=Disney doesn't add more monorail track because it cost a $1,000,000 per mile of track.
False, because it would probably cost more than a million per mile.  The Las Vegas Monorail that opened in 2004 cost a staggering $654 million for 4.4 miles.
MYTH#9=There is a private club called "Club 21" located near The Pirates of the Caribbean.
There is no "Club 21" at WDW.  There are some corporate lounges located around the attraction though.
MYTH#10=The first three Disney theme parks opened on October 1st to commemorate the date that Walt Disney was dishonorably discharged from the Army.
And another that is false. Walt was too young too serve in the Army, but he did volunteer for the "American Ambulance Corps" for the Red Cross.
Author:
ctucker773
Corey Tucker has been a writer, moderator, and an admin, amongst various other roles with the TMSM for over 8 years. When he's not playing with radiation at his day job at a nuclear plant, he can be found hanging out with friends and family and possibly planning another trip to Walt Disney World. If you frequent the site very often (or at least on Tuesdays) then you've probably heard of the world famous blog posting "Tuesdays with Corey", that's him. Every Tuesday he has a blog about foods, history of the parks or whatever he feels is pertinent at the moment. So if you don't currently read his blogs, please start. It's been known to change lives…really it has.