Disney's 24 Hour Party "It's Eye-mazing" Merchandise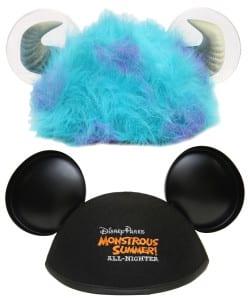 The Monstrous Summer kickoff is almost here, and it's beginning the celebration this coming weekend with the 24 Hour all night party.  As with most things Disney, the event will of course bring out some limited edition merchandise and snacks!  On May 24th, those brave and energetic souls who attempt to stay awake 24 hours at the Magic Kingdom (and Disneyland) will also be treated with the opportunity to purchase some great items!  Here's the rundown straight from Disney!
Take Home a Sulley-Inspired Ear Hat
Looking to bring home something special from this all-night event? As part of Limited Time Magic, you can purchase a Sulley-inspired ear hat or a commemorative 24 Hours "It's Eye-Mazing" T-shirt. Both will be available at select locations, including:
Emporium in Magic Kingdom park
Emporium in Disneyland Park
Elias & Co. in Disney California Adventure Park
Can't make it to the parks for the occasion? You can still take advantage of a special offer to purchase the 24 Hour "It's Eye-Mazing" T-shirt online, available while supplies last!
And for even more monstrous merchandise, lock your eyes on a few other newly created Monsters-themed items, such as some Mike "one eye" glasses!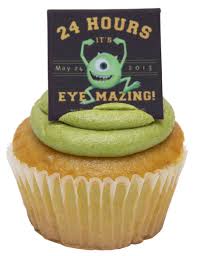 Sweet Treats to Feed the Monster Within
Craving a tantalizing treat to fend off your ferocious appetite? Whether you're headed to Walt Disney World Resort or the Disneyland Resort, there's a series of all new sweets in store just for the occasion!
Be on the lookout for Monstrous cupcakes, cake pops and green and blue cotton candy, along with some new takes on long-time classics like the Monsters inspired Mike and Sulley decorative apples.
Be There or Be Scared
With so many delightfully monstrous surprises in store, this 24-Hour "All-Nighter" is set to be one magic event! No matter where you walk through the gates, you're sure to find an unforgettable time—all part of Limited Time Magic!